This article is 5 years old. It was published on June 15, 2018.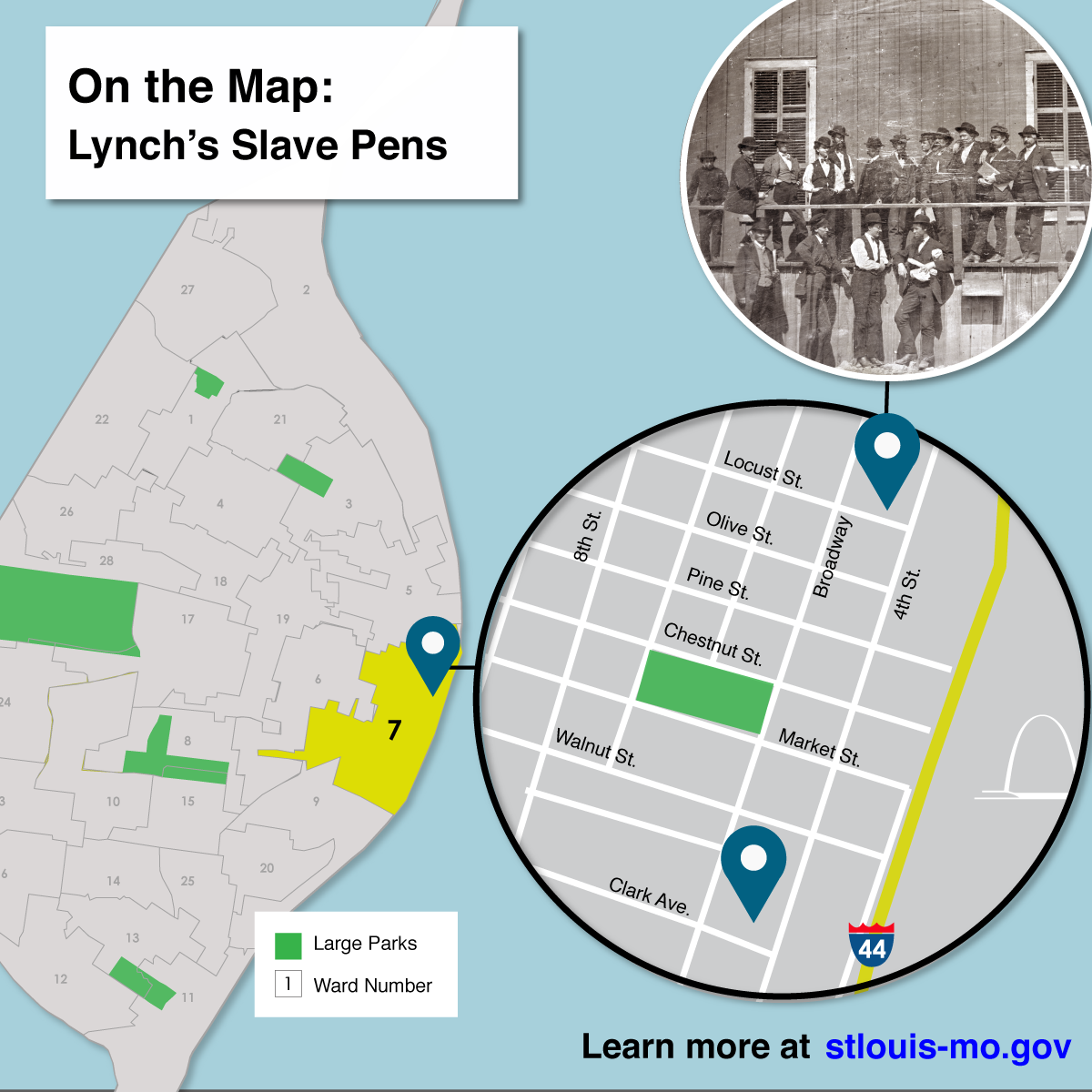 Too often the history of our city goes untold. The streets we walk down or houses we pass have a storied past that is sometimes forgotten. To commemorate Black History throughout the year, we will be sharing the stories of places in our city that in one way or another have been home to the rich history of Black St. Louisans. 
This edition of On the Map focuses on Lynch's Slave Pens and their role in slave trafficking across Missouri in the mid-nineteenth century.
Lynch's Slave Pens were holding places for enslaved men, women, and children before they were sold at slave markets in downtown St. Louis and often auctioned off on the steps of the Old Courthouse. They were named after Bernard Lynch, a slave trafficker known in St. Louis for the significant number of slaves he sold and for his widespread advertisements. 
The pens themselves were cramped and constructed like prison cells. Each person was shackled, the rooms were bolted and locked, and bars were placed on the windows. Several of Lynch's Pens existed across downtown, including one located at 104 Locust Street and at the intersection of Clark and Broadway near the current location of Busch Stadium. 
An abolitionist and minister named Galusha Anderson visited the pens and detailed her experience in her book The Story of a Border City During the Civil War. Anderson recalled a mother's fear that she would be separated from her child and the collective fear amongst the slaves that they would be sold down the Mississippi River to the South. She also highlighted the story of one of Lynch's Pens that only contained children.
During the Civil War, the slave pens were closed and Union soldiers used them as prisons for Confederate sympathizers. The slave pens were destroyed in 1963.
References