This article is 6 years old. It was published on June 1, 2016.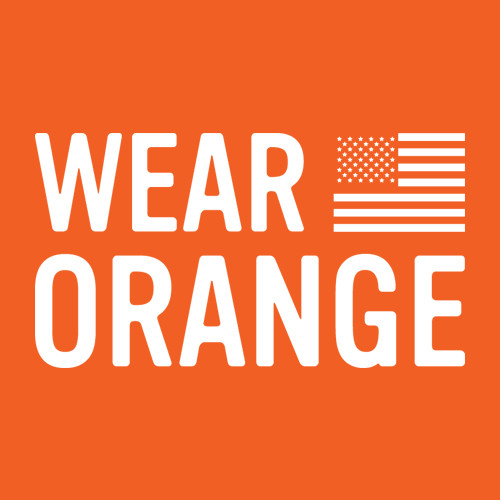 ST. LOUIS —Mayor Francis Slay is asking City residents, business owners, and anchors, reporters and hosts to join him in the Wear Orange campaign on Thursday, June 2, 2016, to call attention to gun violence in our City and across the nation.
Mayor Slay joins other members of Mayors Against Illegal Guns in proclaiming June 2 National Gun Violence Awareness Day in the City of St. Louis to honor and remember all victims and survivors of gun violence and to declare that we as a country must do more to reduce gun violence. The proclamation* encourages all citizens to support their local communities' efforts to prevent the tragic effects of gun violence and to honor and value human lives.
"We live in a culture obsessed with guns and are forced to face the consequences nearly daily in this City and across this country. This is a public health crisis," Mayor Slay said. "We wear orange in honor of the lives stolen by senseless gun violence and in honor of the lives forever changed by it. We wear orange in honor of the St. Louis Metropolitan Police Officers who put their lives on the line to keep our neighborhoods safe and who were shot at on the job this week. The #WearOrange campaign isn't about politics or the 'gun debate;' it's about people and the people left behind, traumatized, when their loved one is killed by someone with a gun."
By the numbers, locally:
67 people have been killed with a gun in the City of St. Louis this year.
723 people have been shot at or injured by gunfire in the City this year.
The St. Louis Metropolitan Police Department has seized 882 guns off the streets of St. Louis this year.
Mayor Slay has pledged to work with the City Counselor and the Board of Aldermen to introduce legislation at the municipal level that will update the City's gun laws to ensure that the City has the expansive gun laws possible to keep all citizens safe.
"Mayors across the U.S. fight to keep their communities safe every day –so it's no surprise that they're stepping up once again for National Gun Violence Awareness Day," said John Feinblatt, president of Everytown for Gun Safety and board member of Mayors Against Illegal Guns. "We're grateful to all the mayors who've declared they'll #WearOrange on June 2nd, and we look forward to even more Americans sharing the message of gun safety and responsibility along with us."St. Louis Civil Courts Building, will be lit orange to draw attention to the national awareness day. The Civil Courts Building will be lit orange between and beginning this evening, June 1, 2016. Additionally, more than 150 Orange meet-ups are planned in communities nationwide. Here in St. Louis, Moms Demand Action will hold a rally on Art Hill on June 2 at St. Louis Metropolitan Police Chief Sam Dotson will attend.
Events and stories will be searchable with the #WearOrange hashtag
Why Orange?.
In 2013, a small group of teens at a South Side Chicago high school asked their classmates to honor the life of their murdered friend Hadiya Pendleton by wearing orange –the color hunters wear in the woods to protect themselves and others and a color that reflects the value of human life.They inspired the Wear Orange campaign (wearorange.org), a coalition of more than 200 non-profits, cultural influencers and elected officials working to reduce gun violence in America. Spearheaded by Everytown for Gun Safety, the campaign asks Americans who believe we can do more to save lives from gun violence to do one simple thing on June 2, National Gun Violence Awareness Day: Wear Orange. Those who wear orange pledge to honor the lives of Americans stolen by gun violence, to help keep firearms out of dangerous hands and to protect our children from gun violence.Wear Orange has already reached more than 220 million people worldwide and is fast becoming the symbol of the gun violence prevention movement.
Full details on Wear Orange 2016 are available here.
*Mayor Slay has proclaimed June 2, 2016, National Gun Violence Awareness Day. The proclamation reads as follows:
WHEREAS, every day, 91 Americans are killed by gun violence and the lives of countless others are injured;and
WHEREAS, protecting public safety in the communities they serve is mayors' highest responsibility;and
WHEREAS, mayors and law enforcement officers know their communities best, are the most familiar with local criminal activity and how to address it, and are best positioned to understand how to keep their citizens safe;and
WHEREAS, to honor the Americans whose lives are cut short, the countless survivors who are injured by shootings every day, and Hadiya Pendleton, who marched in President Barack Obama's second inaugural parade and was tragically shot and killed just weeks later, a national coalition of organizations has designated June 2, 2016, as the second annual National Gun Violence Awareness Day;and
WHEREAS, by wearing orange on June 2nd, Americans will raise awareness about gun violence and honor the lives and lost human potential of Americans stolen by gun violence;and
WHEREAS, on behalf of the people of St. Louis, I renew our city's commitment to reduce gun violence, to do all we can to keep firearms out of the wrong hands, and to encourage responsible gun ownership to help keep all people safe.   
Now, therefore, I, Francis G. Slay, Mayor of the City of St. Louis, do hereby proclaim June 2, 2016, as:
"NATIONAL GUN VIOLENCE AWARENESS DAY"
IN THE CITY OF ST. LOUIS

In witness whereof, I have hereunto set my hand and caused to be affixed the seal of the City of St. Louis, this 2nd day of June, A.D. 2016.