This article is 3 years old. It was published on April 25, 2019.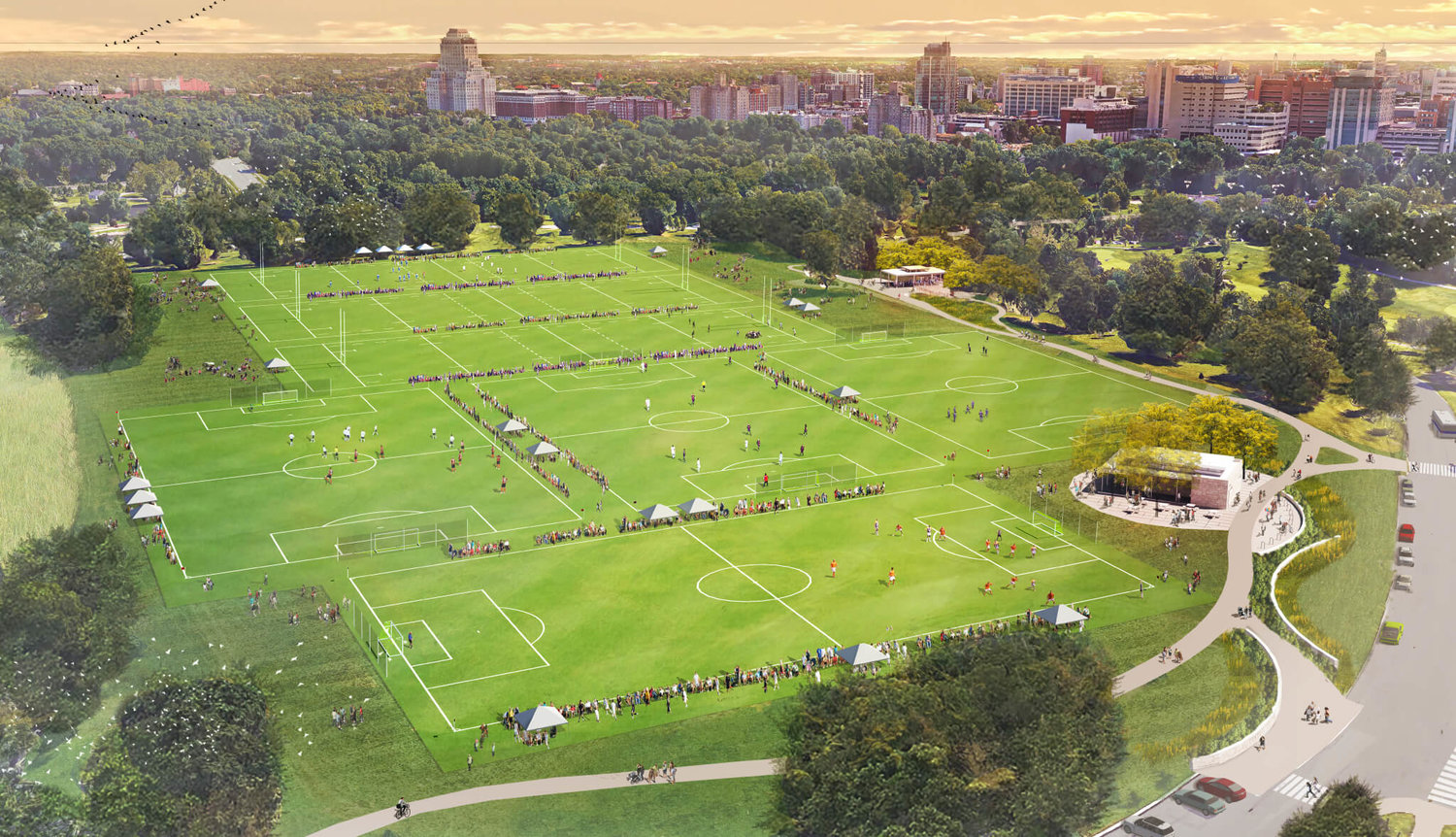 Today the City of St. Louis and Forest Park Forever will formally reopen and dedicate Emerson Central Fields, the 30-acre Forest Park site that has been dramatically improved since it went under construction in June 2017.
The new Emerson Central Fields, which will continue to host both competitive sports and large community festivals and gatherings, will provide a much-improved experience for visitors:
The field surface has been completely rebuilt, with re-graded soil for better drainage, a new smart irrigation system for healthier turf, four new soccer fields and three new rugby fields;

A new pavilion, a new concession area and new restrooms — all ADA-accessible — have been added to enhance the visitor experience;

New trails and sidewalks have been added to improve visitor access and increase pedestrian/bike connections to other parts of Forest Park;

New bike racks and drinking fountains round out the additional visitor amenities;

New trees, attractive landscaping and a new entry plaza will welcome visitors.
This $5.8 million project was funded primarily by private donations to Forest Park Forever's Forever capital and endowment campaign, with additional funds provided by the City of St. Louis. In honor of a generous $5 million donation to the Forever campaign by St. Louis-based Emerson, the fields are being rededicated as Emerson Central Fields.
Forest Park Forever and the City of St. Louis invite all community members to celebrate the reopening of the fields on Thursday, April 25, from 4:30 – 7:00 p.m. The free "Party Central: Grand Reopening of Emerson Central Fields" event will feature family-friendly activities, soccer and rugby games, live music, a hot air balloon, food trucks and more. There will be brief remarks from City of St. Louis and Forest Park Forever representatives as well as Emerson Chairman and CEO David Farr.  
"Central Fields has long been a popular location in Forest Park," said Greg Hayes, Director of Parks, Recreation & Forestry for the City of St. Louis. "With this significant project, we have dramatically improved the experience for both soccer and rugby players as well as all those attending major events like the Great Forest Park Balloon Race. We are proud to share in the St. Louis community's excitement with this great Park project that will provide enjoyment to all in the future."
"We can't wait for the St. Louis community to experience the new Emerson Central Fields," said Lesley S. Hoffarth, P.E., President and Executive Director of Forest Park Forever. "While millions of St. Louisans have enjoyed these fields over many decades, the time had come to invest in restoring and improving the fields and building welcoming new facilities for the site's many users. I would like to thank our City of St. Louis partners and our generous donors, whose remarkable support of the Forever campaign made this project possible."
"Forest Park is truly a unique asset for our region that we should never take for granted," said Emerson Chairman and CEO David Farr. "As a company that has called the St. Louis region our headquarters and home for 128 years, we know how important Forest Park is to the community's identity and as a place that brings people together.
We are proud to support the Forever campaign, and we look forward to the new Emerson Central Fields creating great memories for Forest Park visitors in the years ahead."
For more information contact:
Forest Park Forever
(314) 367-7275
Department:


Department of Parks
Recreation
and Forestry
Division of Recreation


Topic:


Sports and Recreation