Forest Park
Located in the heart of the city, it is the heart of our city.
Balloon Glow Road Closures
Upcoming glow dates are 9/14/18 and Race 9/15/2018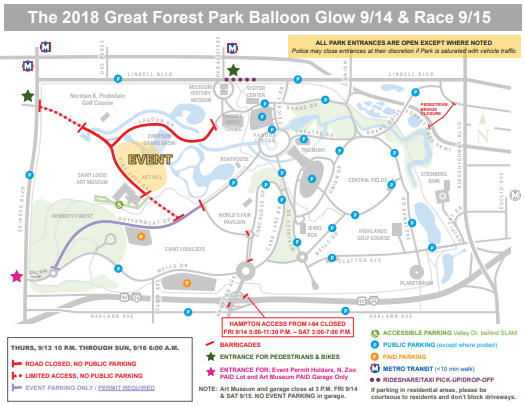 Discover
Zoom and browse to destination. Find amenities. Discover the park.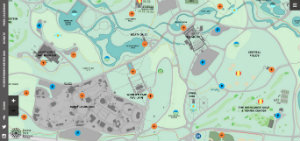 Institutions in Forest Park
Find links to the boathouse, museums, golf courses, tennis courts, and other amenities located in Forest Park.
Forest Park Advisory Board
The Forest Park Advisory Board (FPAB) was established by St. Louis City Ordinance 63769 on April 15, 1996 in order to provide ongoing citizen input into the implementation of the Forest Park Master Plan.
The FPAB has 15 voting members appointed by the Mayor and approved by the Board of Aldermen, up to 5 non-voting advisory members and 7 ex-officio members including the Parks Commissioner, the Executive Director of Forest Park Forever, the Aldermen of any ward in which any part of Forest Park is located, the Chairman of the Parks Committee of the Board of Aldermen, and the Director of the Planning & Urban Design Agency.  The appointed members serve on a voluntary basis and represent an array of interests and areas of expertise in the community.
The Advisory Board's primary role is to review Park improvement projects and monitor compliance with the Master Plan for all major park projects, both privately-funded and City-funded.  The Board is part of a larger ongoing public review process, and as such reviews each proposed project at three stages during the project's design.
In addition, the FPAB reviews and reports on Proposed Physical Changes which are as defined in Ordinance 63769 - any proposed expansion, modification, replacement, relocation, adaptive re-use, or removal of existing buildings, roads, parking lots, paths, recreation areas or natural areas. The Advisory Board determines whether the proposed physical change is significant or minor, consistent, inconsistent or not addressed by the Master Plan, and, if not addressed by the Master Plan, whether the proposed physical change is beneficial to Forest Park. The Board makes recommendations to the Director of Parks, Recreation and Forestry.
The Advisory Board generally meets the third Thursday of the month, at 4:30 PM in the Dennis and Judith Jones Visitor and Education Center. These meetings are open to the public. Advance notification of the meeting and agenda are posted at the door of the Parks Administration Building, south of the Jewel Box and at the Visitor and Education Center. Persons wishing to address the Board may sign up prior to the start of the meeting to do so.
For inquiries, please contact the City of St. Louis Department of Parks, Recreation and Forestry at 314-289-5310.
Current Advisory Board Members
Emily Andrews - Environmental Representative
Tracy Boaz - Ecology and Natural Resources Representative
Karen Goering - Zoo/Museum District Representative
Stephen Ibendahl - Landscape Architecture Representative
Anne Kasal - Lease/Permit Holders Representative
Dennice Kowelman - Urban Design Representative
Thomas Milford - Neighborhood Representative
Barbara Murray - Amateur Sports Representative
Deborah Dolgin - At-Large Member
Sally Nikolajevich - At-Large Member (Chair)
Francis Oates - At-Large Member
Arthur Perry - At-Large Member
Leata Price-Land - At-Large Member
Andrew Schwartz - At-Large Member
Kurt Odendahl – At-Large Member
Ex-Officio Members:
Kim Haegele - Commissioner of Parks
Kelly Harris - 17th Ward Alderman Designee
Frank Kartmann - Forest Park Forever Executive Designee
Alderman Scott Oglivie - 24th Ward Alderman
Don Roe - Director of Planning and Urban Design
David Weber - 28th Ward Alderman Designee
Alderman Frank Williamson - Chair, Parks & Environmental Matters Committee
Non-Voting Members
Charles Arington
Ann Liberman
May Brown Raey
Gary Krosch
Current Forest Park Advisory Board Chair
2015 – Present . . Sally Nikolajevich
Past Forest Park Advisory Board Chairs
1996 - 2000 . . Joe Bergfeld
2001 - 2004 . . Jean Cowell
2004 - 2007 . . Gentry Sayad
2007 - 2009 . . Mike Murray
2009 - 2011 . . Deborah Dolgin
2011 - 2013 . . Karen Goering
2013 - 2015 . . Emily Andrews

 
Upcoming Events
Thursday, Nov 15, 2018
Thursday, Dec 20, 2018
Thursday, Jan 17, 2019
11 comments from people like you have helped us improve this page. Keep the feedback coming!