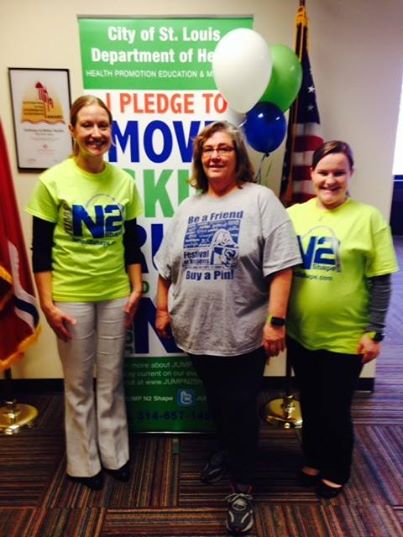 JUMP N2 Shape Fitness Challenge Winner
Congratulations go to Mary Hemme, our Jump N2 Shape Anniversary Fitness Challenge winner! Hemme is a City of St. Louis employee in the Comptroller's office. She was awarded the top prize for her 12.5 pound weight loss in the 10-week challenge period. Her winnings included $300, a JUMP N2 Shape t-shirt, and a water bottle. Hemme has more weight she would like to lose, so hopefully the challenge has spurred her to even greater weight loss success.
Many people made new year's resolutions to lose weight and be more active. Get a JUMP on your weight loss and fitness goals and sign up today. If you or someone you know is interested in signing up for JUMP N2 Shape, please visit www.jumpn2shape.com.
JUMP N2 Shape is the City of St. Louis Department of Health's free fitness initiative to decrease obesity in the city by 5% by 2018. The initiative has been active for just over a year. In that time 878 participants have joined, 466 pounds total have been lost by the participants, and they have collectively logged over 25,000 minutes of physical activity.
Health Department
City of St. Louis
Department:


Division of Health


Topic:


Health