SLU Gardens to Tables Food Day: October 9, 2015

On October 9, nearly 140 people attended the fifth annual Gardens to Tables Food Day event at Saint Louis University. The event is hosted annually by Saint Louis University's Department of Nutrition and Dietetics, with partnerships from the City of St. Louis Department of Health and Les Dames d'Escoffier, to raise awareness about sustainable food practices. This event is one of thousands of Food Day events across the nation celebrating food and rallying for healthy, affordable, and sustainable agricultural practices around the United States. (www.foodday.org)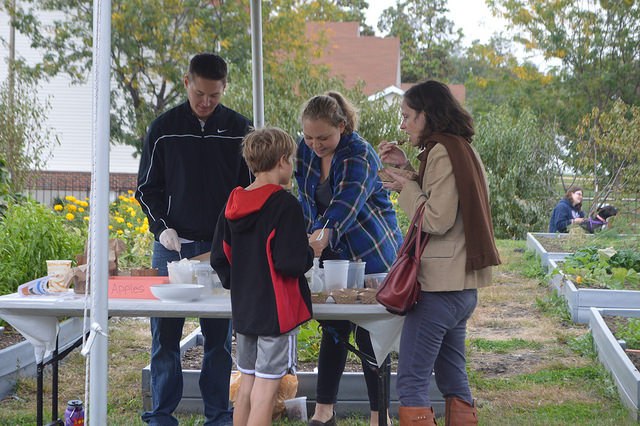 Food Day began as an offshoot of World Food Day, which was established by the Food and Agriculture Organization back in 1945. It has since been observed every year in more than 150 countries, raising awareness of the issues behind poverty and hunger. The national Food Day celebration occurs each year on October 24, and has five priorities:
·To promote safer and healthier diets
·Support sustainable and organic farms
·Reduce hunger and improve food access
·Reform factory farms to protect the environment and farm animals
·Support fair working conditions for food and farm workers
In line with the priorities, Gardens to Tables Food Day kicked off with this year's "Local Food Hero" keynote speaker, Rusty Lee of Lee Farms who shared how he and his farm support sustainable agricultural practices. Following his presentation, guests enjoyed a lunch of gourmet local foods and had a chance to engage with other sustainable food agencies and organizations. To learn more about Food Day, visit the Gardens to Tables Food Day website.


2015 Gardens to Tables Food Day Menu:
Hummus // High Tunnel Arugula, Toasted Crumbs, Cured Egg Yolk, Brick Oven Pita

Local farms: SLU Garden, Lee Farms

Apple + Cauliflower Salad // Celery, Peanut, Raisin, Lime, Black Pepper

Local farms: Echo Valley, Double Star Farm

Butternut // Gribenes (crisp chicken skins), Coffee, Green Zhug (a Middle Eastern hot sauce)

Local farms: Bellows Creek, Buttonwood Farm, Lee Farms, Sump, SLU Garden

Crispy Grilled Chicken Wings // Chermoula (a spicy sauce)

Local farms: Buttonwood Farm

Burnt Eggplant Confit (specially-preserved) // Walnut, Pickled Onion, Crème Fraiche, Garden Za'atar (a Middle Eastern spice blend)

Local farms: Lee Farms, SLU Garde
Department:


Division of Health


Topic:


Health