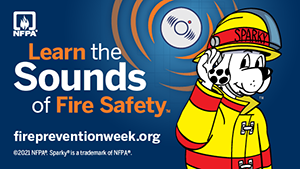 As Fire Prevention Week approaches, the St. Louis Fire Department reminds residents to "Learn the Sounds of Fire Safety." According to the National Fire Protection Association, which has been the official sponsor of Fire Prevention Week for more than 90 years, the theme for this year's Fire Prevention Week campaign is "Learn the Sounds of Fire Safety." The goal is to educate everyone about simple but important actions they can take to keep themselves and those around them safe.
It's important to learn the different sounds of smoke and carbon monoxide alarms. when an alarm makes noise -- a beeping sound or a chirping sound -- you must take action. Make sure everyone in the home understands the sounds of the alarms and knows how to respond.  
The St. Louis Fire Department was founded September 14, 1857, and for the past 164 years it has been committed to ensuring the safety and security of all those living in and visiting St. Louis. Home fires cause an average of 2,620 civilian deaths each year in the United States with fire departments responding to 353,100 home fires. Three out of five home fire deaths result from fires in properties without working smoke alarms. Working smoke alarms cut the risk of dying in reported home fires in half.
The St. Louis Fire Department is dedicated to reducing the occurrence of home fires and home fire injuries through prevention and protection education. The Department encourages all St. Louisans to use Fire Prevention Week as a time to learn more about what steps they can take to prevent a home fire.
For more general information about fire prevention, visit www.fpw.org.
# # #