This article is 11 years old. It was published on September 1, 2011.
Mayor Francis G. Slay presented the Mayor's Spirit of St. Louis Award to Cfx ad agency and Marian Middle School on Aug. 25 in recognition of their revitalization of the former Holy Family Catholic church and school.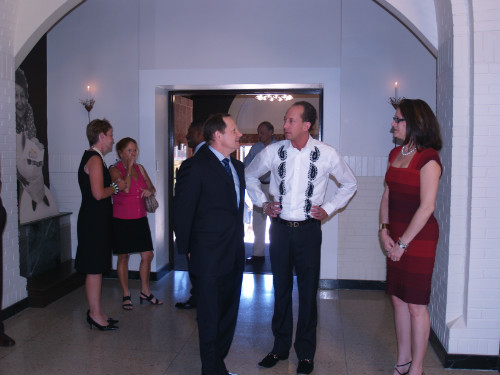 Pictured above from foreground left: Mayor Francis G. Slay speaks with Chris and Megan Frank prior to the award presentation.
Founded in 1898, Holy Family parish was closed by the Archdiocese of St. Louis in 2005. In March 2006, Cfx owners Chris and Megan Frank purchased the former church located at 3221 Oak Hill Ave. in the Tower Grove neighborhood and relocated their company from Rock Hill. The entire church from altar to choir loft now serves as state-of-the-art creative office space for the full-service advertising agency.
Headed by President Maureen A. Herrmann, Marian Middle School – a Catholic middle school serving approximately 70 economically disadvantaged girls to advance them to college prep high schools and beyond – upgraded the adjacent former parish school into a wireless learning environment with a culinary arts center and other programs serving the girls and their families.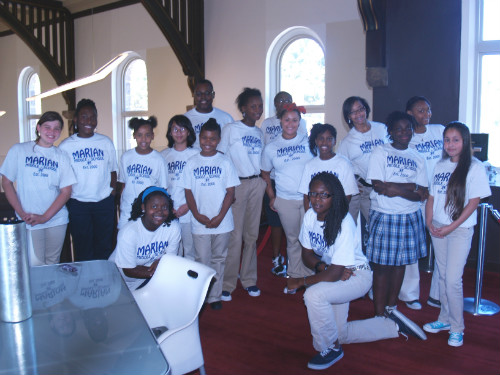 The Mayor's Spirit of St. Louis Award recognizes businesses that make major expansions or improvements to their existing locations, open or relocate to the City, and certain major City projects. The Spirit Award program is administered by the St. Louis Development Corporation (SLDC), the economic development agency for the City of St. Louis.