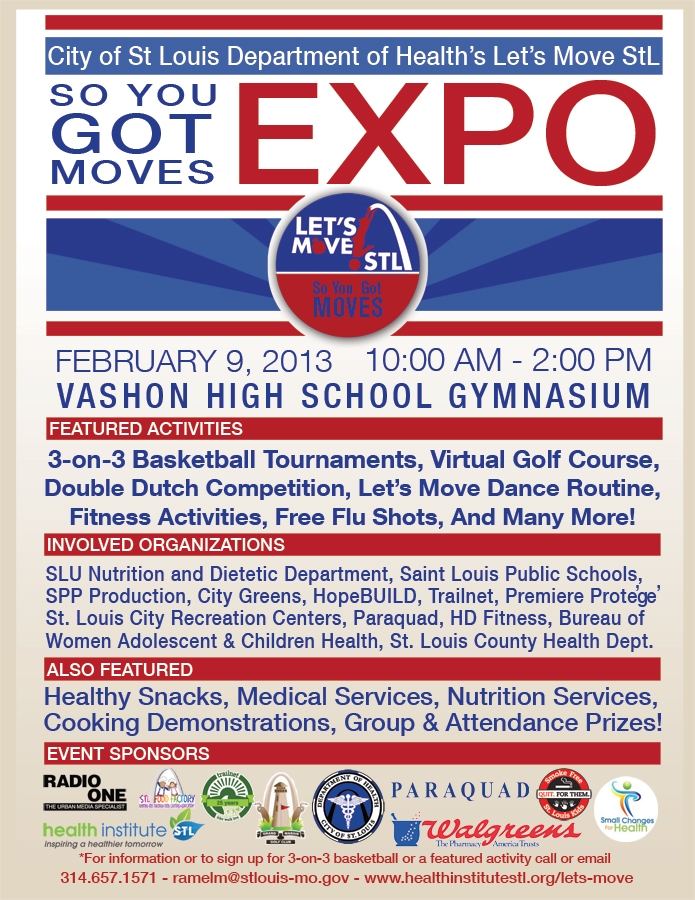 Let's Move! STL- So You Got Moves Expo Recap
The City of St. Louis Department of Health celebrated the third anniversary of Let's Move! with a bang. The main event, the Let's Move! STL - So You Got Moves Expo was held at Vashon High School on February 9th at 10:00 am. From a 3-on-3 basketball tournament to double-dutch jump rope to dancing and shaking with Zumba and the Let's Move! dance, there were a multitude of activities to get everyone moving.
Many different divisions within the Health Department participated in the Let's Move! STL – So You Got Moves Expo and provided a variety of information. Animal Care and Control provided healthy pet ownership materials, the Bureau of Environmental Health Services provided winterization tips and resources, the Bureau of Women, Children, and Adolescent Health provided asthma education, body mass index (BMI), and blood pressure resources, the Bureau of Communicable Disease provided free STD testing, while Children's Environmental Health provided easy calisthenics and information about lead testing for children.  The City Building Division also had information regarding remediating and preventing lead poisoning from buildings.
A variety of community health organizations also participated providing free flu shots, STD testing, smoothie samples, cooking demonstrations, a golf simulation game, and fitness activities.  Radio One provided music and radio station 'shout-outs' as everyone was grooving to the jams of Hot 104.1. A dance team from Dance Plus showcased their talents by performing a couple of exciting dance routines to get everyone in the mood to move.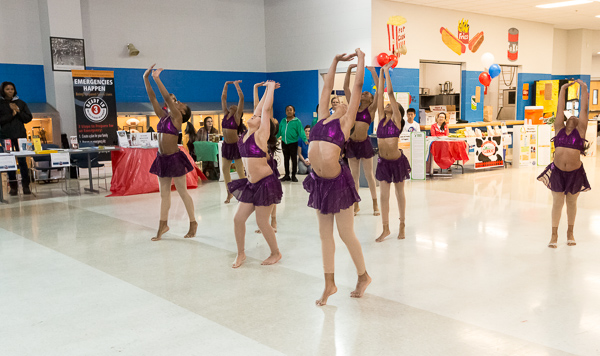 Featured guests included SLPS Athletic Director Travis Brown, 19th Ward Alderwoman Marlene Davis, and Health Commissioner Melba Moore. Each of them offered a few words of encouragement for the participants. Mayor Francis G. Slay also stopped by and spent time greeting everyone who attended the event, from babies to older adults.

In addition to the activities at Vashon High School , many of City Recreation Centers joined in this year's celebration of Let's Move! offering special activities for residents and other patrons. In the LaSalle neighborhood, the 12th and Park Center held table tennis game, while the Wohl Center in the Kingshighway East neighborhood, families came out to participate in youth and adult basketball, weight-lifting, and other activities. At the Marquette and Gamble Centers, kids and adults enjoyed basketball and other games. The Tandy Center in the Ville neighborhood offered families the opportunity to participate in tennis competitions.
Overall, the day was a big success with over 1,100 participants amongst the many participating sites, 15 community organizations, and 50 volunteers. A special thank you goes out to all of those involved with this continued effort in promoting a healthier St. Louis community. Be sure to stay tuned this summer for Let's Move! STL So You Got Moves Golf. You can visit www.healthinstitutestl.org for more information.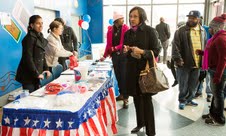 Let's Move! is First Lady Michelle Obama's comprehensive initiative to fight childhood obesity. Let's Move! STL supports community actions that educate and encourage healthy lifestyles for all ages and ability levels.The Let's Move! STL effort is a featured component in Mayor Slay's new Sustainability Action Agenda.
Department:


Department of Health


Topic:


Health