This article is 8 years old. It was published on March 5, 2014.
 Larry and Brenda Thompson have amassed a remarkable collection of art by African Americans from around the nation and an exhibition highlighting some of the outstanding pieces opened last month at the Saint Louis University Museum of Art in Grand Center.  
The exhibition entitled, "Tradition Redefined:  The Larry and Brenda Thompson Collection of African American Art," offers 66 works that reflect an inclusive and in-depth understanding of artists of color, their aesthetic and their social concerns and fosters emerging, regional and lesser-known, as well as master, artists of color.  The collection redefines the landscape of American art.
In recognition of their outstanding support of the arts, African-American artists and the general public, Mayor Francis G. Slay proclaimed Feb. 28, 2014, as "Larry and Brenda Thompson Day" in the City of St. Louis. The Thompsons are pictured below with their Mayoral proclamation.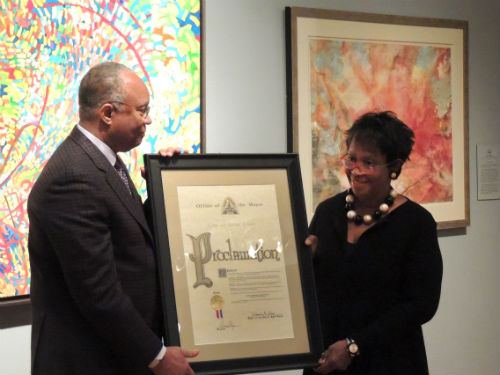 The exhibit will run through Sunday, May 18.
Mayor's Office
City of St. Louis
Department:


Office of the Mayor