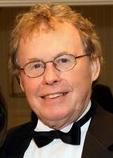 Bill Siedhoff, Director of the city's Department of Human Services was selected as "2011 Man of the Year" by the St. Louis Crisis Nursery. Siedhoff will be honored at the sold out "Razzle Dazzle Ball" being held on April 2, 2011, at the Westport Sheraton Lakeside Chalet. Also being honored will be Christine Chadwick, Executive Director of FOCUS-St. Louis, who was named "2011 Woman of the Year."
This year's fund raising event, the "Razzle Dazzle Ball," will be celebrating the Silver Anniversary of the Crisis Nursery marking 25 years of dedicated service to children and families in the St. Louis Metropolitan area.  During that time the Crisis Nursery grew from their first facility at Deaconess Hospital, which later became Forest Park Hospital, to a total of six locations including sites in St. Charles and Wentzville. Most recently they moved into a new facility in the city named the Centene Center located at 1928 Gravois, allowing them to care for even more babies and children.
The Crisis Nursery is committed to the prevention of child abuse and neglect providing emergency intervention, respite care and support to families in crisis .  Last year, the Crisis Nursery provided a safe haven for more than 7,200 children and as a result, 99% of the children did not experience abuse while their family participated in their programs.
For several years, Siedhoff has chaired the St. Louis Crisis Nursery Advisory Board, a group of community volunteers that offers advice and support for the programs of the Nursery. Most recently he assisted in the opening of the new Centene Center in the City of St. Louis. 
Department:


Department of Human Services


Topic:


Community