This article is 12 years old. It was published on September 1, 2011.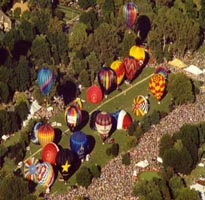 The 2011 Great Forest Park Balloon Race is scheduled for Saturday, Sept. 17 and will take place on Central Field in Forest Park, near the Jewel Box. Festivities will begin at Noon. The opening ceremonies will take place at 3:30 p.m. and the "Hound" Balloon Launch is set to begin at 4:45 p.m.
The Balloon Glow will take place on Friday, Sept. 16 also on Central Field from 7 p.m. to 8:30 p.m. The event will conclude with the PNC Bank fireworks finale display beginning at approximately 9 p.m.
These events are free to the public -- no admittance or parking charges.
Please note that the Humane Society of Missouri will hold a separate Glow in the Park benefit party on Friday with proceeds benefiting the Animal Cruelty Fund. Also, St. Louis PAL is holding a separate Glow With PAL benefit on Friday with proceeds benefiting the Police Athletic League. 
For more details about any of these events, click on the appropriate website: http://www.greatforestparkballoonrace.com , http://www.hsmo.org/glow , or http://www.GlowWithPal.com .
Department:


Department of Parks
Recreation
and Forestry