Mayor Francis G. Slay, the City of St. Louis Health Department, and the American Red Cross invited City employees to be St. Louis Community Heroes by donating blood, learning CPR, and/or learning to prepare for emergencies.
The blood drive took place on Friday, Nov. 19. The CPR training took place on Saturday, Nov. 20. Volunteers were on hand both days providing information on emergency preparedness.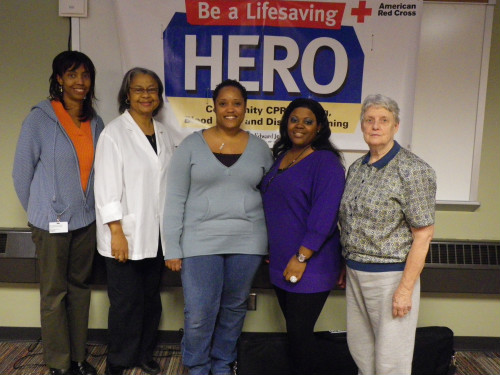 Pictured from left are City employees Valerie Simmons, June Lane, Shafrika McCurdy, KC Carbin and Sister Patricia O'Toole, who participated in the recent St. Louis Community Heroes event held at the City's 1520 Market Street Building.
Thank you to everyone who donated blood and participated in the training!
Department:


Department of Health