History has taught us that many military servicemen and women return home from duty unable to cope and unable to regain the normal life they knew before enlisting. The strain and stress of combat too often finds these veterans turning to drugs and alcohol, putting them on the downward spiral that inevitably follows.
Veterans Treatment Court
is a partnership between the Court and the Veterans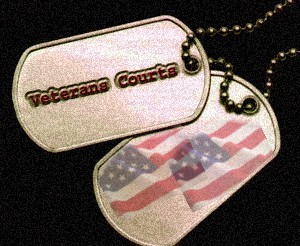 Administration, which pairs participants with services that many vets don't even know exist, and with mentors from the VA. The purpose is to keep these nonviolent offenders out of jail and on the road to recovery.
Christopher Deutsch, with the National Association of Drug Court Professionals, recently told the St. Louis Post-Dispatch that matching services of the Court with services from the VA is a commons sense way to address the problem of veterans and drugs. "A lot of the folks who are working in these courts saw what happened to the previous generation of these veterans," he said. "There's a real desire to not repeat the mistakes of the past, and to intervene early to ensure that these folks can get on track."
 Read more about St. Louis' Veterans Treatment Court here…
http://www.stltoday.com/news/local/crime-and-courts/article_126c75d2-ce59-5af9-a53e-979f39eb7b33.html
Department:


Circuit Court


Topic:


Courts and Justice System