This article is 2 years old. It was published on September 1, 2019.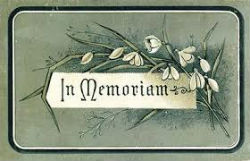 With deep sorrow we announce the passing of Antoinette Banks.
In honor of our dear friend and colleague Ms. Antoinette Banks, we offer our sincere condolences to her family and friends.  She was an employee in the Department of Public Safety; she was a welcomed asset to the Neighborhood Stabilization Team.  Her service and dedication to the City of St. Louis was invaluable. 
The funeral arrangements will be as follows:
Friday, September 6, 2019 at 11:00 a.m. 
Viewing 9:00 a.m-11 a.m.
Place: Greater St. Mark Church
9950 Glen Owen Drive
St. Louis, Mo. 63136
(GPS this address for the church..1820 Chambers Road)
Burial Site
Memorial Park Cemetery
5200 Lucas Hunt Road
St. Louis, Mo. 63120
The Repast is at 2:00 p.m.
The Blome Elementary School
4471 Olive Street
St. Louis, Mo. 63108
Antoinette's memory will be forever engraved in our hearts.
# # #
Department:


Neighborhood Stabilization Team


Topic:


Employees