This article is 12 years old. It was published on December 1, 2010.
Serving homeless women and children and at-risk families, Gateway 180 Homelessness Reversed is now even a better shelter for those in need because of the generosity of members of the Roofing & Siding Contractors Alliance (RSCA) and the United Union of Roofers, Waterproofers and Allied Workers Local No. 2.
A $120,000 project to provide a high-performance insulation and roofing system was recently completed and dedicated at a ceremony on October 29, 2010.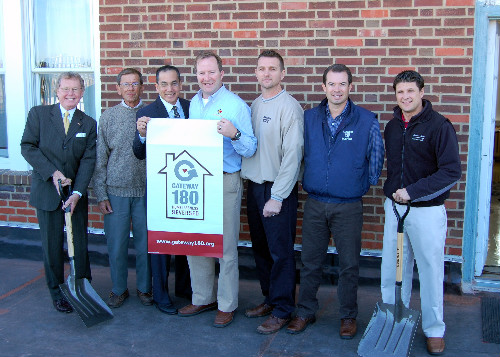 Participating in the dedication were (pictured from left): Bill Siedhoff, Director, Department of Human Services, City of St. Louis; Paul Eckrich, Jos. Eckrich Roofing Co. and Chairman of Gateway 180 Facilities Committee; Martin Rafanan, Executive Director of Gateway 180; Eric Kirberg, Vice President of Kirberg Company and RSCA Past-President; Denny Marshall, Industry Advancement Fund, Local 2; Dennis Woods, Lakeside Roofing and RSCA President; Brent Wiley, Roofers Mart and RSCA President-Elect.
Paul Eckrich of Jos. Eckrich Roofing Company, chairman of Gateway's facilities committee, asked Eric Kirberg, Vice President of Kirberg Company, to coordinate the project which he did successfully. He donated his supervision, equipment and know-how to get the project done. The roofing materials were contributed by RSCA members, Roofers Mart and Firestone Building Products. Local 2 provided a $50,000 grant to cover the cost of labor from its Industry Advancement Fund, which promotes the unionized roofing industry and funded by Signatory Roofing Contractors.
"This is a huge gift and Eric has been a champion," said Martin Rafanan, the Executive Director of Gateway 180. "Our mission is to provide safe, nurturing, emergency shelter services designed to get women, children and families into homes within 25 days. With the new roof and the associated weatherization project made possible because of it, we'll have energy savings of $17,000 annually. That's money we will use to get more women with children into housing more quickly."
"We were able to leverage the commitment for the new roof to be able to receive additional funding through the Department of Natural Resources and the Urban League of Metro St. Louis for an extensive weatherization project," explained Eckrich about the further renovations made at Gateway 180.
Gateway 180 is the largest 24-hour emergency shelter for single women and families in the state of Missouri, providing 110 beds and three home-cooked meals a day to residents. In adverse weather conditions, the shelter opens additional beds to meet the needs of homeless women and children. In addition, more than 100 lunches are distributed each day to homeless and low-income people.
About the Roofing & Siding Contractors Allicance
The Roofing & Siding Contractors Alliance (RSCA) is a professional contracting group representing more than 70 member companies throughout the St. Louis bi-state region. RSCA was formed in January 2006 through the merger of The Associated Roofing Contractors of Greater St. Louis and The Roofing & Siding Contractors Association. RSCA members provide the complete range of roofing and siding services, for all types of commercial and residential projects in Missouri and Illinois. RSCA promotes the highest industry standards and practices, and solid corporate citizenship, advancing the professional and community profile of its member companies.
Department:


Department of Human Services