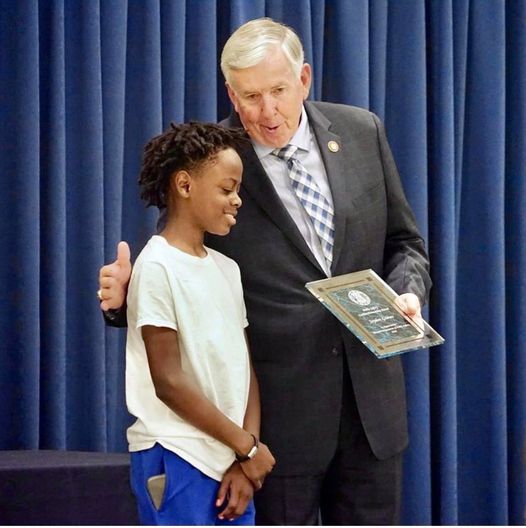 This year, the Missouri Public Safety Civilian Partnership Award went to 12-year-old Jayden Groves who performed a life-saving rescue at age 11! (Pictured above is Missouri Governor Mike Parson presenting the award to Groves. Photo courtesy of the St. Louis Fire Department Facebook account)
On August 8, 2020, a 22-month-old boy wandered away from a large family gathering in the Hyde Park area of St. Louis. His family began searching for him frantically. The toddler's 11-year-old brother, Jayden Groves, knowing that his little brother liked to play in water, immediately headed toward a nearby pond. When he discovered his brother floating face down, he jumped into the pond and pulled out his brother.
As a relative began providing CPR, Jayden raced to the nearby St. Louis Fire Department Engine House No. 8, which he had visited many times in the past. He pounded on the front door. Firefighter Dave Rodriguez ran with Jayden to the scene. The little boy was still unconscious and unresponsive. The firefighter began rescue breaths until Engine 8 arrived and assisted with ventilation. The child showed signs of improvement during transport to a hospital, which was assisted with an escort from the St. Louis Metropolitan Police Department. The boy has made a full recovery, all because of the calm, mature, and decisive actions taken by 11-year-old Jayden in a stressful emergency situation.
Jayden was nominated by the St. Louis Fire Department.
Congratulations, Jayden!
# # #