This article is 3 years old. It was published on July 1, 2020.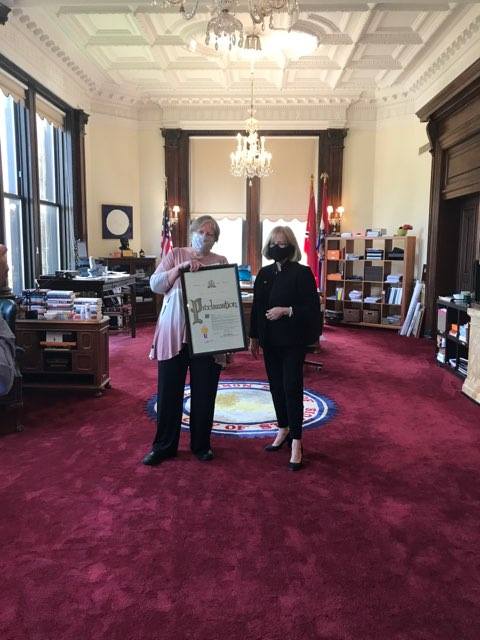 Mayor Lyda Krewson (right) proclaims "Linda Wessels Day" in the City of St. Louis. (Photo courtesy of Pam Kuehling)
Family, friends and co-workers gathered in the office of Mayor Lyda Krewson last month to congratulate Linda Wessels on the occasion of her retirement after 49 years of dedicated service to the City and the Supply Division, Multigraph Section.
Linda began her career with the City of St. Louis as a Typist Clerk I for the Department of Health and Hospitals in August of 1971. She served 12 years in the Health Department where she discovered her love of printing arts learning layout and design, offset printing and typesetting. In 1983, she transferred to the Supply Division as a Duplicating Equipment Operator II.
In 1984, she directly contributed to the success of the newly developed computerized typesetting section, as well as the darkroom and pre-press composition operations. Many publications, including the City Journal and the employee Newsgram were produced in-house. By 1990, she was promoted to Prepress Supervisor, then Pressroom Supervisor in 1997. In 2012, she took on the responsibility of Manager of the Multigraph Section.
Linda has received many commendations for her service to City departments including the 2005 Mayor's Service Award for monetary savings. She participated in many special projects overseeing printing projects for Operation ChildGuard, Miss Universe Pageant, AAU Junior National Volleyball Championship and the inauguration of five Mayors and three Comptrollers.
Linda's professionalism and willingness to assist City departments in whatever capacity required has earned her the respect and gratitude of her co-workers.
Mayor Krewson extended thanks and appreciation to Linda for her dedicated service and wished her all the best in the years ahead.
# # # 
Department:


Office of the Mayor


Topic:


Employees