This article is 10 years old. It was published on June 1, 2012.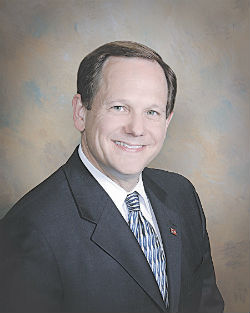 Mayor Francis G. Slay presented the Mayor's Spirit of St. Louis Award to DYNALABS today in recognition of the company as one of the fastest growing businesses in the nation and its innovations in the field of pharmaceutical testing.
DYNALABS is one of the success stories from the City's small business incubator, St. Louis Enterprise Center.  DYNALABS was founded in 2004 by two former Sigma-Aldrich executives, Russell Odegard and Michael Pruett.  In line with their innovative solutions based approach to doing business, they are in the process of launching a revolutionary point of use testing device (DVx) that will be used by hospital pharmacies across the nation to instantaneously verify the identity and strength of various high risk injectable medications.  Since entering the market in 2004, DYNALABS has effectively reduced what used to be a two-week response time in the industry, to a couple days, and with the advent of DVx, a couple minutes.
Rapid growth and demand for DYNALABS' testing and consulting services enabled the company to "graduate" from the incubator into its own headquarters at Chouteau Crossing.  DYNALABS has grown to a staff of 28 and plans to more than double that number over the next five years.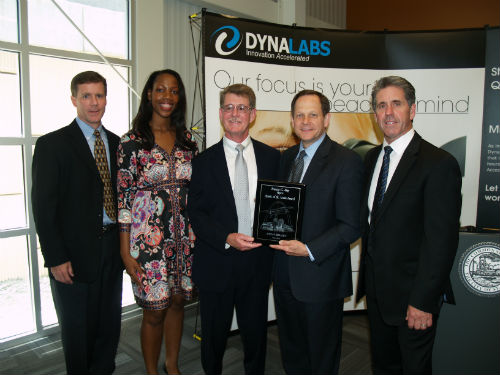 Pictured above from left are:  Mike Pruett, Alderwoman Kacie Starr Triplett, Scott Glover, Mayor Francis G. Slay presenting the award, and Russ Odegard.

DYNALABS has been recognized nationally as one of the fastest growing businesses in America, including:
Initiative for a Competitive Inner City (ICIC) list of the Top 100 fastest growing inner city companies in 2011
Inc. magazine's list of Fastest Growing Private Companies in America, 2009 and 2010.
SBA's 2009 Missouri Small Business Team of the Year
Business of the Year, 2006 City Business Celebration Luncheon
The Mayor's Spirit of St. Louis Award recognizes businesses that make major expansions or improvements to their existing locations, open or relocate to the City, and certain major City projects.  The Spirit Award program is administered by the St. Louis Development Corporation (SLDC), the economic development agency for the City of St. Louis.
Mayor's Office
City of St. Louis