This article is 11 years old. It was published on January 1, 2011.
Each year Mayor Francis G. Slay presents Mayor's Service Awards in various categories to highlight some of our best City employees. During a ceremony in the City Hall Rotunda on Wednesday, Dec. 15, 2010, Mayor Slay presented awards to six City employees who have gone above and beyond their duties.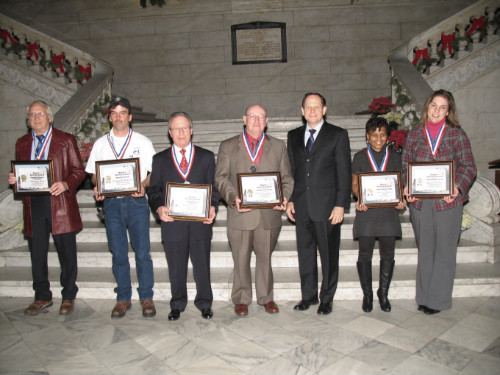 Pictured from left are:
Manfred Klatt, Civil Engineer III, Water Division - Sustained Superior Performance
Patrick McMahon, Mechanical Maintenance Foreman, Lambert-St. Louis International Airport - Monetary Savings
Thomas Gerrein, Sr., Streets and Traffic Liaison, Department of Streets - Improved Level of Service
Peter Joergensen, Central Printing Administrator, Multigraph Section - Employee of the Year
Mayor Francis G. Slay
Teresa Hunter, Clerk Typist II, Assessor's Office - Departmental Image
Christine Boyer, Disabled Service Representative, Office on the Disabled - Departmental Image
In his remarks, Mayor Slay noted that a lot of City employees do a lot of great things throughout the year and that their contributions do not go unnoticed. He thanked them for their efforts and encouraged all City employees to keep up the good work.
Congratulations to all the Mayor's Service Award recipients!
Department:


Office of the Mayor