This article is 11 years old. It was published on June 1, 2011.
Mayor Francis G. Slay recently presented the Mayor's Spirit of St. Louis Award to Warehouse of Fixtures "The Next Generation," a full-service office furniture dealership. Shown below from left to right are: CEO Daniel Lohman, co-owners Joanne Singer and David Singer, and Mayor Francis G. Slay.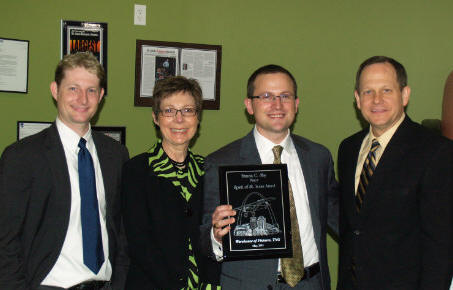 After 60 years in business at 3720 Laclede Ave., the family of company founder Arnold Singer closed the company in 2002 to make way for loft apartments for Saint Louis University students. However, grandson David Singer continued to sell the remaining office furniture as a summer job. Due to customer demand, David Singer re-opened the company in 2004 as Warehouse of Fixtures TNG, with his mother, Joanne Singer, as co-owner and long-time friend, Daniel Lohman, as CEO. 
Committed to maintaining a strong presence in the City, Warehouse of Fixtures TNG recently relocated to 2720 Market St., improving its retail location and doubling its warehouse/showroom size to 56,000 square feet. Warehouse of Fixtures TNG currently has 11 employees and will add 10 new jobs over the next few years.
The Mayor's Spirit of St. Louis Award recognizes businesses that make major expansions or improvements to their existing locations, open or relocate to the City, and certain major City projects. The Spirit Award program is administered by the St. Louis Development Corporation (SLDC), the economic development agency for the City of St. Louis.