This article is 7 years old. It was published on November 4, 2013.
The Children's Environmental Health Bureau of the City of St. Louis Department of Health hosted a community outreach event this past weekend in conjunction with Asthma Ready® Communities (ARC). The Asthma Ready St. Louis Surge was held on Saturday Oct. 26th at the Better Family Life Cultural, Educational, and Business Center at 5415 Page Avenue, 63112, from  More than 60 children with asthma and their families, from the St. Louis metro area, participated in the event which provided evidence-based, asthma education in a fun and engaging environment.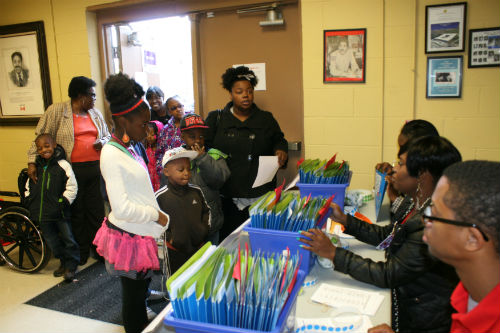 Lorise Thornton (center right), a Clerk/Typist II with the Bureau of Children's Environmental Health, registers participants for the event. (Photo by Tracey Flenoid)
Children and their parents were presented with asthma control messages through the use of Asthma Academy educational games and cartoon videos. Asthma health assessments were delivered to each child and an array of resources were provided to each family to facilitate learning and the overall improvement of asthma health within the St. Louis metropolitan area.  Children also had the opportunity to participate in fun activities such as jump rope, asthma bingo, and "mucus" making. Andre Hepkins of KMOV "News 4 This Morning" emceed the event, while musician Al Keith serenaded the crowd with his "Asthma Blues." The participants received a light lunch, healthy snacks, and goodie bags that included jump ropes, therapy balls, and spacers to use with their inhalers. HEPA vacuums were also raffled off.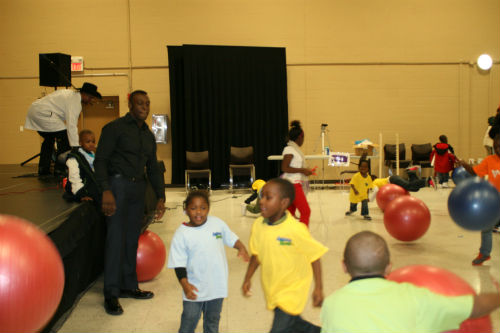 Andre Hepkins (standing left) of KMOV-TV's "News 4 This Morning" interacts with the children. (Photo by Tracey Flenoid)
The success of the event was made possible with funding from the Missouri Foundation for Health and through partnerships with the Saint Louis Integrated Health Network, the St. Louis County Department of Health, People's Health Centers and the St. Louis chapter of the Asthma and Allergy Foundation of America. Assistance from more than 30 community volunteers also contributed to the event's success.
If you have a child who is living with asthma and would like more information on asthma resources, please contact Children's Environmental Health at 314/657-1456.
Health Department
City of St. Louis 
Department:


Department of Health


Topic:


Health