This article is 9 years old. It was published on January 1, 2013.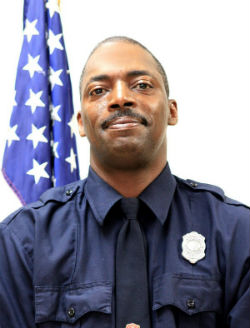 St. Louis Firefighter Jeffery Hudson, 44, an 18-year veteran of the St. Louis Fire Department, died on duty on December 12, 2012.  Following is an excerpt from the funeral service program at Kennerly Temple church of God In Christ on Dec. 18, 2012.
Life Reflections
Jeffery Artell Hudson was born on November 25, 1966 in St. Louis, Missouri to the union of Presley Sr. and Ernestine Hudson.  He was the youngest of four children.
Jeffery attended Southwest High School, where he developed a love for basketball, wrestling, and art, and even offered an art scholarship.  With an energetic attitude and smile that would light up any room, Jeffery was always full of life.
Early in life he met and married Doris (Dottie) Vasser, together they reared four loving and devoted children.  He later met and married Torri Everett, although both marriages were dissolved, they all remained the best of friends.
He eventually joined the St. Louis Fire Department in 1993 where he served for 18 proud years.  His love for his job inspired him to have hopes of making Captain, for which he was studying for up to his passing.  Along with being a fireman, Jeffery also explored several successful business ventures, such as Hudson Auto Sales, and his many home proprietorships.
He professed his love for Christ at Little Bethel Church of God In Christ, under the leadership of Pastor Buster Ollie, he later joined Mt. Calvary Church of God In Christ, under the leadership of Bishop William Scott where he remained a member until his passing.
He leaves to cherish his memory:  children  ~ Tia, Donnella, Sherita and Jeffery; his parents ~ Presley Sr. and Ernestine Hudson; Goddaughter ~ Jakayla; brothers ~ Presley Jr. and Andre; sister ~ Veronica (Paulette); grandchildren ~ Aniya, Demar Jr., Dahlia and DonVeion Jr. (DJ); special friend ~ Kamina; his ex-wives and friends ~ Doris and Torri; along with a host of aunts, uncles, nieces, nephews, cousins, friends and his St. Louis City Fire Department Family.
*****************
Fellow City employees offer their deepest sympathy to the loved ones of Jeffery Hudson.  We will miss him.  May he rest in peace.
Department of Public Safety
City of St. Louis