This article is 11 years old. It was published on February 10, 2011.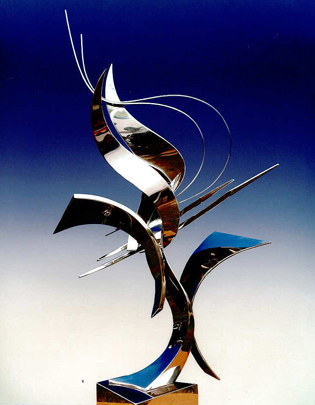 Internationally recognized Mexican artist Leonardo Nierman is donating an original sculpture to the City of St. Louis to be displayed at Lambert-St. Louis International Airport. The St. Louis Airport Commission has given its approval for the donation, which must also be approved by the Mayor and the St. Louis Board of Public Service.  
The 10-ft high, polished steel sculpture is entitled "Sensación de Vuelo" (Flying Sensation). Nierman has paintings, sculptures and tapestries in collections around the world, including The Museum of Modern Art in Mexico, The Gallery of Modern Art in New York, The Vatican Museum in Rome and The Museum of Contemporary Arts in Madrid, among others.
"I am extremely honored that the City of Saint Louis has accepted this present of Mexico," said Leonardo Nierman. "'Sensación de Vuelo' symbolizes the friendship that exists between the peoples of my country and Saint Louis, and the dreams and great achievements we are called to accomplish together."  
The Honorable Jacob Prado, the Mexican Consul in Kansas City, Missouri offered the City of St. Louis the opportunity to receive the sculpture as a gift to represent the friendship between the Mexican and U.S. governments as well as a tribute to Mexico's centennial celebration of the Mexican Revolution of 1910.  
"It is great news to learn that the work of Leonardo Nierman, one of Mexico's most distinguished contemporary artists, will have such a prominent place in Saint Louis," said Prado. "This sculpture certainly will showcase a more current and accurate picture of today's Mexico, an image that reflects a culture of ancient origins, but at the same time, alive, vibrant, rich and diverse in artistic expressions."  
The exact location for the sculpture's installation at the Airport will be determined at a later date, pending a review by the Airport's Art Advisory Committee. This is the first major art donation to be received under the Airport's new Art and Culture Project, which was launched in 2010. Lambert has also commissioned nine local artists to create art glass screens in Concourses A and C, which will be installed later this year.
Department:


St. Louis Lambert International Airport


Topic:


Airports