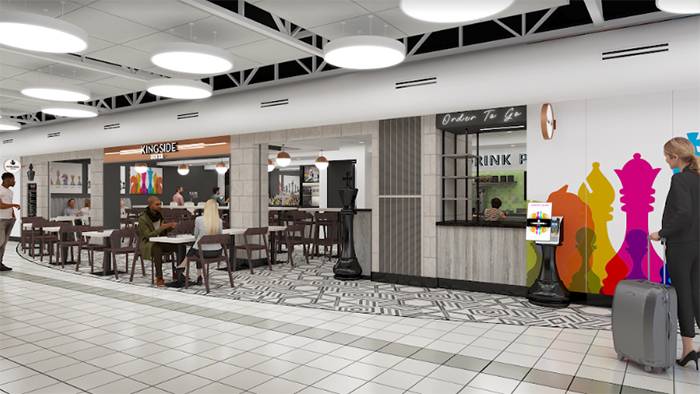 Last Wednesday (10-5-2022), St. Louis Lambert International Airport's (STL) Commission approved travel industry innovator Paradies Lagardère's proposal to bring the Kingside Diner experience to STL's Concourse C by March 2023. Paradies Lagardère currently operates two Vino Volo wine bar and restaurant locations (one in Concourse A and a second in Concourse E) at STL. This third location would be the company's first site in Concourse C, which provides gates for American, Alaska, Frontier and Spirit Airline passengers.
The concept of this restaurant is based on the current Kingside Diner locations found in both the city's Central West End and Clayton. On its website, Kingside states it menus are, "built upon our passion for delicious food and fantastic guest experiences, our mission is to redefine what it means to be a Diner."
"We pride ourselves in giving STL's passengers a taste of St. Louis' local cuisine," said STL Airport Director Rhonda Hamm-Niebruegge. "Kingside is not just one more restaurant at STL, it's a great diner coming to STL."
"We're excited to expand our dining services at the St. Louis Lambert International Airport with such an iconic restaurant as Kingside Diner," said Gregg Parades, President and CEO of Paradies. "Bringing the local traditions and flavor of this great diner from the St. Louis community into the airport will be an exciting option that we know our guests will thoroughly enjoy."
This announcement comes on the heels of the latest retail opening at STL. Rip Curl, a retail outlet for beachwear and tropical leisure attire is now found in STL's Concourse C. In addition, a new food option is available in Concourse E with the opening of local Mexican favorite Casa de Tres Reyes.
Contact Information:


Roger Lotz
Public Information Officer
Office Phone: (314) 426-8125
Mobile Phone: (314) 795-2235

Department:


St. Louis Lambert International Airport


Topic:


Airports
Shopping and Dining