This article is 6 years old. It was published on April 22, 2016.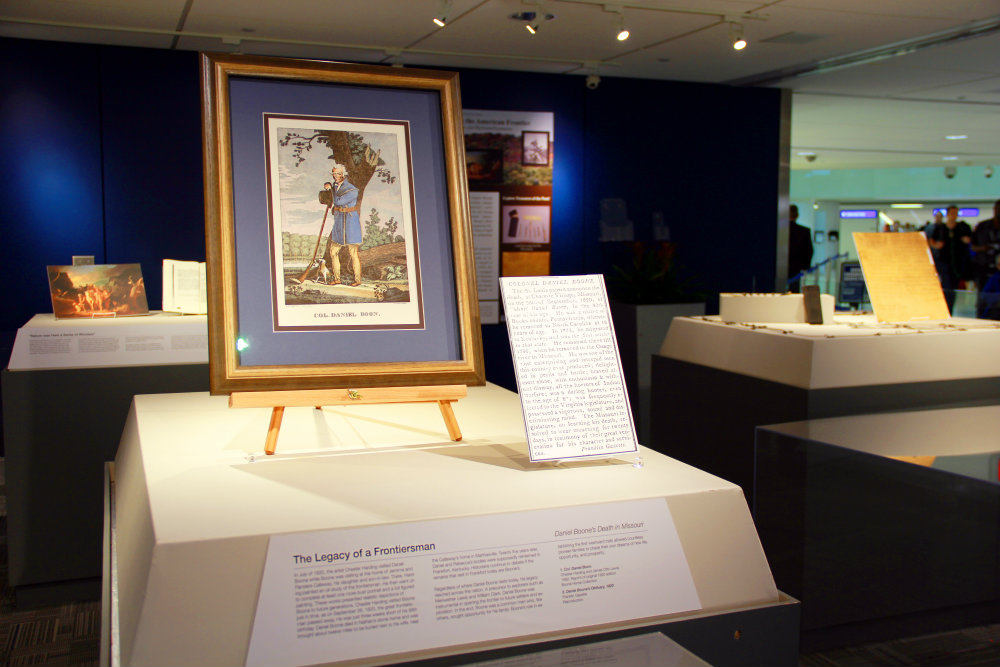 Lambert-St. Louis International Airport is proud to introduce its latest exhibition at The Lambert Gallery with the opening of Footsteps on the American Frontier: Daniel Boone and Westward Expansion,curated by Lindenwood University and the Historic Daniel Boone Home & Heritage Center.
This exhibition examines one of America's early frontiersmen, Daniel Boone, focusing on Boone's life and his contributions toward the opening of America's early frontier. Lambertis the perfect venue for this exhibition as St. Louis is considered by many as the "gateway to the west." The exhibition is part of the Lambert Art & Culture Program, which is dedicated to promoting local cultural works and institutions to area residents and St. Louis visitors. The Lambert Gallery, located in Terminal 1 Bag Claim near the exit of the C Concourse, features temporary exhibitions by artists and cultural institutions from St. Louis and across the region.
Among the items to be displayed in the Boone exhibition are antique surveying equipment, portraits, maps, and Boone family heirlooms. The exhibition weave's a story of discovery with not only artifacts, but paintings including one showing Boone escorting settlers through the Cumberland Gap (by George Caleb Bingham) and another where Boone rescued his daughter and other girls from several Shawnee and Cherokee tribesmen when he lived in Kentucky.
All items on display belong to the educational and historical collections at the Historic Daniel Boone Home & Heritage Center, which is owned and operated by Lindenwood University. The University has owned the Historic Daniel Boone Home & Heritage since 1998. The Historic Daniel Boone Home & Heritage Center is the home in which the famous frontiersman passed away. For a fee, the home offers interpretative guided tours of the site. Visitors may also choose to self-guide the property. Hands-on school programs are available for elementary- to college-level classes. The site hosts four major special events and several smaller programs throughout the year. For more information, please call 636-798-2005or visit www.danielboonehome.com
Lambert's Airport Arts Advisory Committee (AAAC) selected theHistoric Daniel Boone Home & Heritage Center for exhibition with program support from the Regional Arts Commission. Current members of the AAAC are Shelley Hagan, Wells Fargo Curator Corporate Art; Laura Helling, Director of Development for Wings of Hope; Marilu Knode, Director of Laumeier Sculpture Park; Leslie Markle, Curator of Public Art, Mildred Lane Kemper Art Museum; Kiku Obata, Founding Principal of Kiku Obata & Co.; Roseann Weiss, Director of Community and Public Arts for the St. Louis Regional Arts Commission; and Freida L. Wheaton, Salon 53 and Founder of Alliance of Black Art Galleries.
Contact Information:


Jeff Lea
Public Relations Manager
Office Phone: (314) 426-8125
Mobile Phone: (314) 795-2235

Department:


St. Louis Lambert International Airport