This article is 4 years old. It was published on October 23, 2018.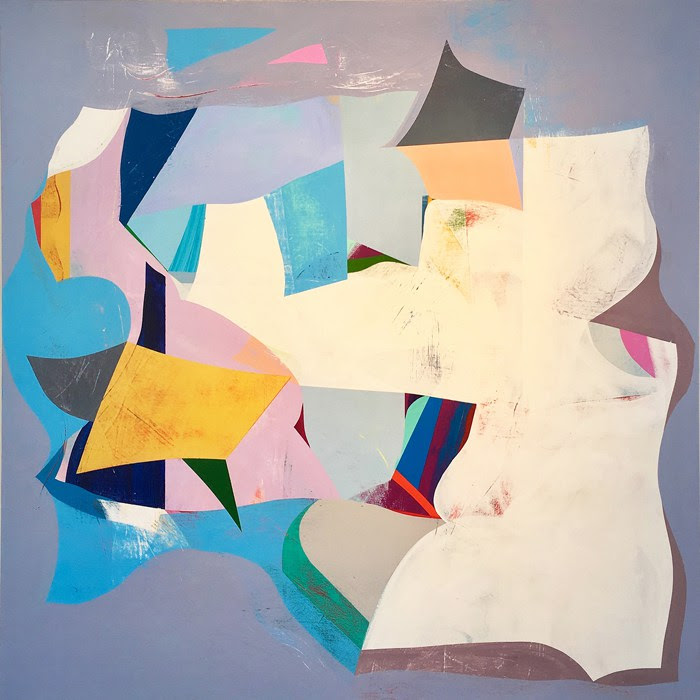 St. Louis artist Jeremy Rabus takes a construction mentality to his art- he grinds and excavates to reach new levels of colorful hues and rich tones in his acrylic paintings.  St. Louis Lambert International Airport is proud to share Rabus' "Livery," a collection of paintings inspired by the livery and components of commercial airliners.
As a small child, Jeremy Rabus spent much of his time in his grandfather's backyard near the airport staring into the sky at the parade of planes flying overhead. Memories of the brightly colored planes against the blue sky in their magnificence and power has inspired the artist to this day.
"My paintings are composed using an intuitive process of layering and excavating. I arrange vivid hues alongside subtle tones, or rich and opaque passages with translucent glazes. These elements overlap, intertwine, and accentuate each other," said Jeremy Rabus.  "As the piece evolves I grind into the layers with a power sander, revealing new textures, early brushstrokes and stunning color 'conversations,' which tell the painting's story of its making."
Livery is now on display through April 21, 2018 near the A Concourse entrance in Terminal 1 as part of the Lambert Art & Culture Program's temporary exhibitions program. The program is supported by the Regional Arts Commission of St. Louis. The exhibition is comprised of four works, "Sesqui-Wing," "Loran Navigation," "Elevon," and "Decalage," – all acrylics on shaped panels.
Rabus is a St. Louis painter who has exhibited in several solo and group shows across the country. He also serves as a studio facilitator at Living Arts Studio in St. Louis, assisting artists with disabilities.  
Jeremy Rabus was chosen to exhibit in the Lambert Art & Culture Program through the Airport's seven-member Airport Art Advisory Committee. Current members are Lisa Cakmak, Associate Curator of Ancient Art at Saint Louis Art Museum; Ellen Gale, Executive Director Clayton Chamber of Commerce; Shelley Hagan, Wells Fargo Curator Corporate Art; Leslie Markle, Curator of Public Art, Mildred Lane Kemper Art Museum; Kiku Obata, Founding Principal of Kiku Obata & Co.; Roseann Weiss, consultant with ART+; and design artist and illustrator Carlos Zamora. 
The mission of the Lambert Art and Culture Program is to create a visually outstanding impression of St. Louis Lambert International Airport, generate community pride, and ensure that art at the airport continues to complement and build upon the airport's rich visual legacy. The program aims to highlight the St. Louis region's unique art and culture, while also showcasing national and international works, focusing on both visual and performing arts. Currently, there are 29 works of art (temporary, permanent or on-loan) on exhibit at the Airport. For more information, visit www.artoftravelstl.com.

Jeremy Rabus Exhibition images: 
Sesqui-Wing
Loran Navigation
Elevon