This article is 5 years old. It was published on October 13, 2017.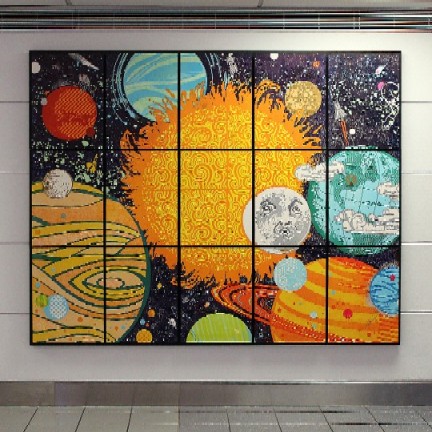 The solar system is full of mysteries, and artist Eric Woods, owner and founder of The Firecracker Press, let his creativity soar into space with the creation of The Solar System Series, now on display at St. Louis Lambert International Airport. The exhibition will be on display near A Gates entrance/exit at Terminal 1 through next year.
This intricate, multi-paneled work is letterpress printed on paper, from hand-carved woodcuts and other recycled materials like cardboard and vinyl siding. Each panel was printed individually over the course of several months, then pieced together and mounted on wood. Together, the panels form a colorful and show-stopping image that is already getting lots of attention from travelers. Hidden in the piece are all sorts of "Easter eggs" for the viewer to find, such a Starship Enterprise and a lost satellite, among others.
The Solar System Series exhibition is part of the Lambert Art & Culture Program's temporary exhibition program. The program is supported by the Regional Arts Commission.
The Lambert Art & Culture Program is led by the seven-member Airport Art Advisory Committee. Current members are Lisa Cakmak, Associate Curator of Ancient Art at Saint Louis Art Museum; Ellen Gale, Executive Director Clayton Chamber of Commerce; Shelley Hagan, Wells Fargo Curator Corporate Art; Leslie Markle, Curator of Public Art, Mildred Lane Kemper Art Museum; Kiku Obata, Founding Principal of Kiku Obata & Co.; Roseann Weiss, Director of Community and Public Arts for the St. Louis Regional Arts Commission; and Carlos Zamora, Creative Director at Express Scripts. 
The mission of the Lambert Art and Culture Program is to create a visually outstanding impression of St. Louis Lambert International Airport, generate community pride, and ensure that art at STL continues to complement and build upon the airport's rich visual legacy. The program aims to highlight the St. Louis region's unique art and culture, while also showcasing national and international works, focusing on both visual and performing arts.
Contact Information:


Jeff Lea
Public Relations Manager
Office Phone: (314) 426-8125
Mobile Phone: (314) 795-2235

Department:


St. Louis Lambert International Airport