This article is 5 years old. It was published on February 23, 2017.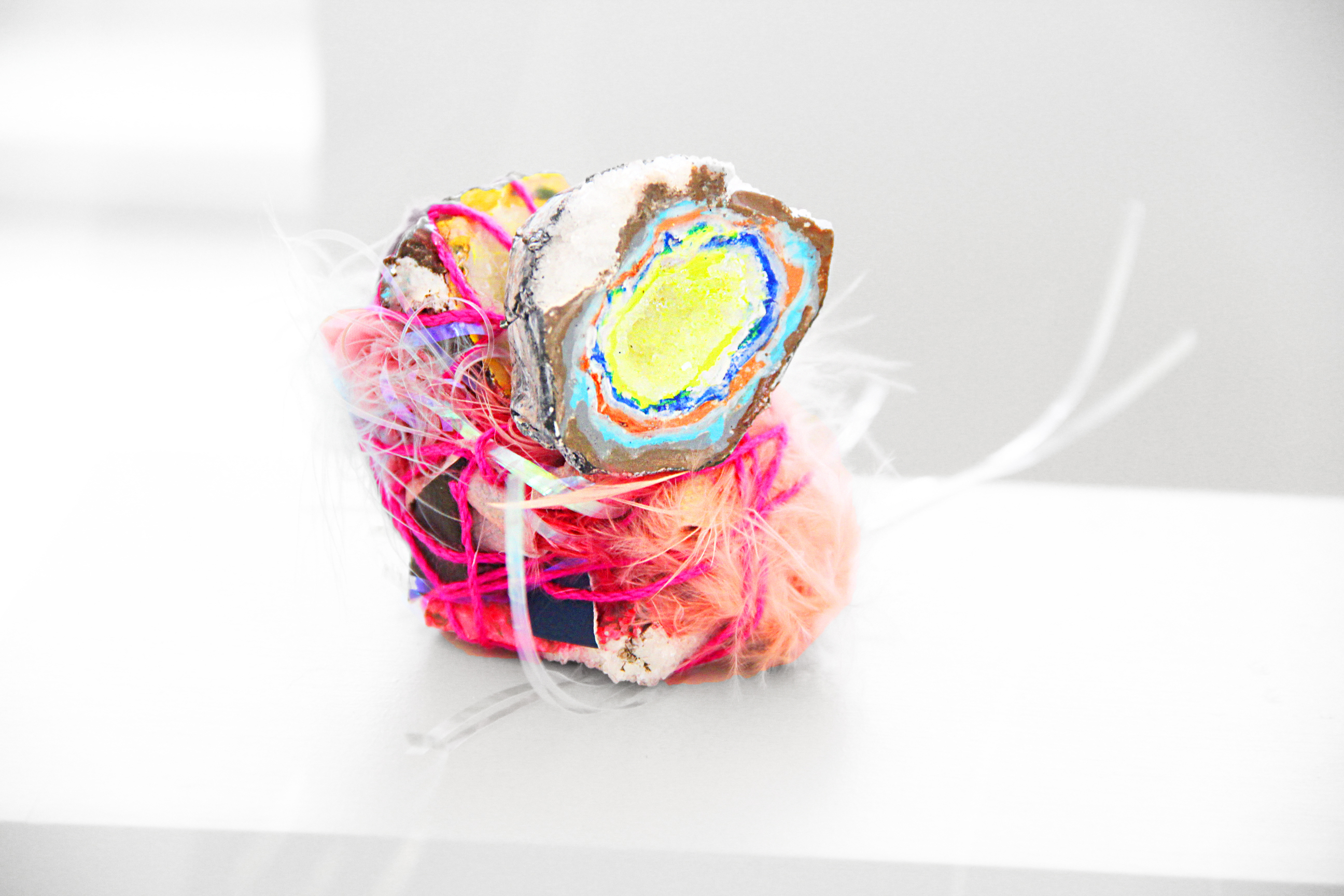 Local artist Amy Reidel brings an inventive new approach to the art space at St. Louis Lambert International Airport with her exhibition entitled, "Significant Weather" on display in the Terminal 1 Ticketing Lounge. Reidel's works appear to be literally be bursting at the seams with vibrant, neon colors in the form of fabrics, foils, metallic, feathers and geode crystals, among other mediums. She is also the first artist to have pieces displayed in suspense, giving the appearance they are floating in mid-air.
"Significant Weather," which can be viewed through May 14, is made possible by the Lambert Art and Culture Program, supported by funding from the Regional Arts Commission. Through community support,The Lambert Art and Culture Programcurates artworks and cultural experiences throughout STL Airport.
For the past ten years as a multi-media artist, Reidel has found meaning in radar imagery of "the storm," using it asa metaphor to signify emotional and physical conditions. She combines weather radar imaging and full-color MRI's with alluring materials like glitter, friendship bracelets and colorful paint; symbols of love, celebration and joy.
Reidel believes her chosen scientific image bases inform each other, formally and conceptually, even if it's only in a mythical capacity. "Research has shown many visual similarities between imagery of the storms above and the storms within." Amy writes describing her work, "Through interpretative portrayals of changing atmospheric and bodily conditions, viewers can question these codes of danger and potentially see the beauty within them."
A St. Louis-based artist who has exhibited work regionally and nationally, Reidel recieved her BFA from the University of Missouri-St. Louis and her MFA at The University of Tennessee. She has been a resident artist atACRE (Artists' Cooperative Residency and Exhibitions) based out of Chicago,the David and Julia White Artists' colony in Ciudad Colon, Costa Rica and at the Luminary Center for the Arts in St. Louis. Her work can be viewed online in the curated artist registries and viewing programs at White Columns and the Drawing Center in New York City. 
In 2014 Reidel was awarded an Artists' Support Grant from the Regional Arts Commission of St. Louis and in 2016 the Critical Mass Creative Stimulus award. Reidel is currently a faculty member at St. Louis Community College and Saint Louis University, as well as Co-Founder and Creative Editor of All the Art: The Visual Art Quarterly of St. Louis.
In 2016 the Lambert Art and Culture Program executed 12 rotating art exhibitions, in addition to the Airport's permanent art collection. For the latest art installations, and to learn more about the Program, please visit www.ArtofTravelSTL.com  
Department:


St. Louis Lambert International Airport


Topic:


Airports