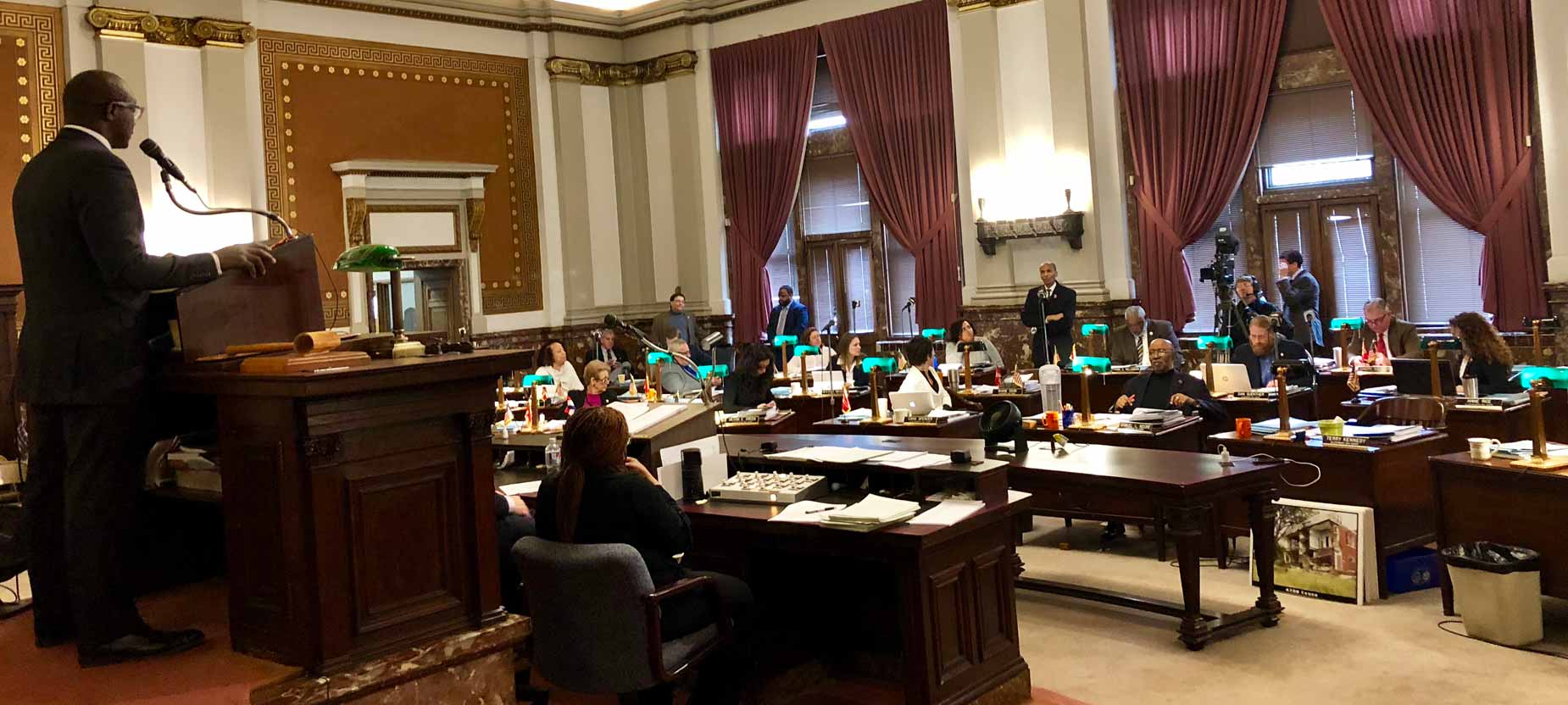 As the 2019-2020 Board of Aldermen session progresses, there have been nearly 200 Board Bills introduced at the Board of Aldermen, with more than 120 of them becoming law. 
Because there are many bills moving through the Board of Aldermen, Board of Aldermen President Lewis Reed has shared a brief legislative update on the session thus far. 
Bills that have become law this session range in topics from public safety to neighborhood development and clean energy to public health. Below are a few highlights: 
Board Bill 2 - Regulations for Medical Marijuana Facilities 
Board Bill 2 established regulations and site requirements for medical marijuana facilities in the City of St. Louis. The reasonable regulations were put in place to ensure that the health, safety and general welfare of the neighborhood are not impacted. 
Board Bill 106 - Reporting requirements for firearm dealers 
Board Bill 106 was passed by the Board of Aldermen making St. Louis the first municipality in the nation to establish reporting requirements for licensed firearm dealers. The law requires federally licensed firearms dealers to report failures of the background check system to local law enforcement for further investigation. 
Board Bill 32 - Criminal Justice Coordinating Council 
Board Bill 32 was signed into law which established a Criminal Justice Coordinating Council independent advisory council. The council works to ensure the fair administration of criminal and juvenile justice by increasing effective communication, collaboration and planning. They are also working to improve the criminal and juvenile justice systems' operation through effective data collection, sharing and analysis crosscutting the local criminal and public health systems. 
Board Bill 105 - Cure Violence Funding 
Board Bill 105 was unanimously passed by the Board of Aldermen to secure funding for the data-driven, public health program Cure Violence. Cure Violence takes an evidence-based approach in reducing violent crime in urban settings. It uses community members as violence interrupters, connects at-risk people with relevant community services, and results in rapid and sustained reduction of gun violence.
Board Bill 51 - Cancer Prevention Initiative for Firefighters 
Board Bill 51 approved the expenditure of grant funding for a cancer prevention initiative for the St. Louis Fire Department. 
---
You can read more about these board bills and others here.
Stay up-to-date with all Board of Aldermen news here.

The Board of Aldermen resumes on Jan. 10 at 10 a.m.
The 2020-2021 session begins on April 21, 2020. 
Department:


Board of Aldermen
President of the Board of Aldermen


Topic:


Policy Making