This article is 2 years old. It was published on September 9, 2019.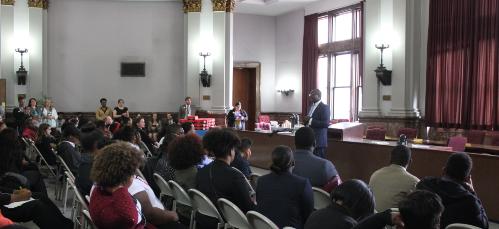 Since the session began, there have been more than 90 board bills introduced at the Board of Aldermen ranging in topics from street closures and redevelopment plans to public safety and budgets. 
A few of the many board bills that have passed the Board of Aldermen and were signed into law are listed below. View and download all of the Board Bills from the session. 
The Board of Aldermen approved changes to the local zoning codes to allow the regulation of medical marijuana facilities throughout the City. Read more 

The Board of Aldermen passed the Fiscal Year 2020 Budget by a vote of 20 "ayes," 5 "noes" and 1 present. The budget included focuses on reducing crime, helping build up our neighborhoods, providing resources to our most vulnerable populations and more. View the 2019 budget

Ordinance 70988 was passed which allowed funding from the U.S. Department of Homeland Security to put funds to a cancer prevention initiative. 
For the remainder of the session, the Board of Aldermen is expected to take up legislation surrounding an MLS stadium, public safety initiatives, appropriation bills for police body-worn cameras and more. 
The Board of Aldermen is the legislative body of the City of St. Louis and creates, passes, and amends local laws, as well as approve the City's budget every year. There are twenty-eight aldermen, one from each ward in the City and a President.
The full Board of Aldermen meets every Friday at 10 a.m. with committee hearings throughout the week. All meetings are streamed live and uploaded to the City's website and YouTube. 
Stay up-to-date with all Board of Aldermen news.