April 19, 2011
Immediate Release:

Pawsengers can fly by this summer
(St. Louis)   Pet Airways of Delray Beach, Florida has announced it is adding St. Louis to its network of 14 major city destinations.
Flights to and from Lambert-St. Louis International Airport will begin this summer. Pet Airways, Inc. is the only airline specifically designed for the safe and comfortable transportation of pets, or "Pawsengers."   Pets are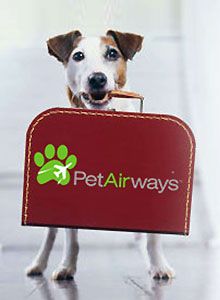 continuously monitored by an in-flight Pet Attendant in a climate-controlled cabin with lots of fresh, cool air for maximum comfort. 
"This is a unique airline that obviously has growing support across the country for those who want to make custom travel plans for the transportation of their pets," said Lambert Director Rhonda Hamm-Niebruegge. "We look forward to working with Pet Airways on the final arrangements so the airline can begin service here."
Pet Airways launched flight operations in 2009 and currently serves destinations across the U.S., including Los Angeles, Phoenix, Denver, Omaha, Chicago, Baltimore, New York, Atlanta and Ft. Lauderdale. Orlando, Houston, Austin and Dallas were recently announced as new destinations with flights beginning this summer.
Reservations will begin later this spring by calling 1-888-PET-Airways or online at www.petairways.com.
 

For more information contact: 
Jeff Lea
Public Relations Manager
314-426-8125
Department:


Animal Care and Control


Topic:


Airports