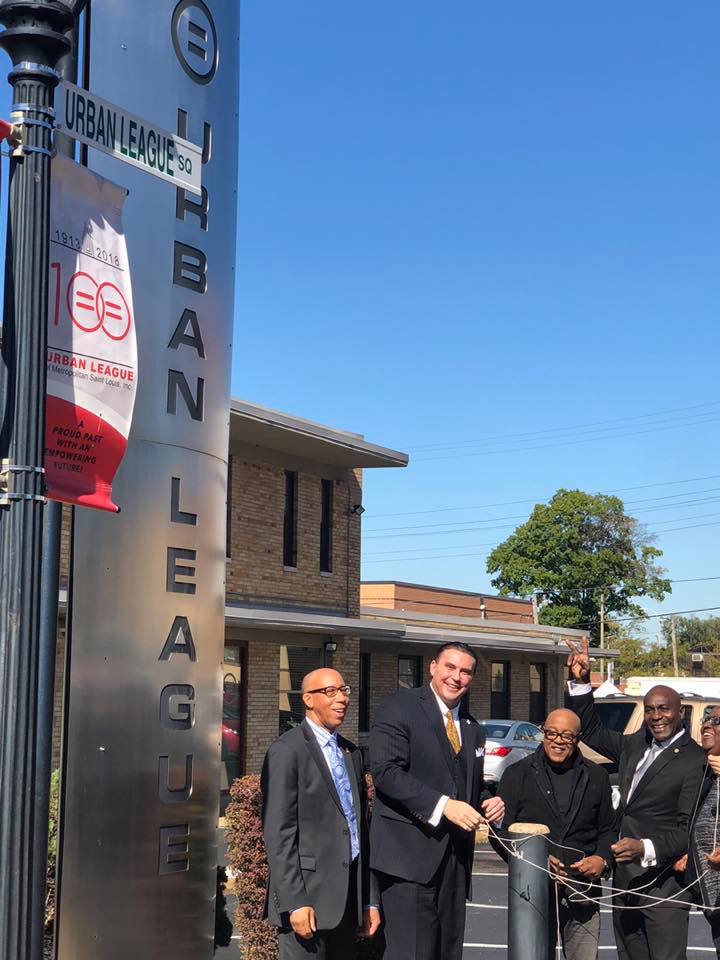 Today, the City of St. Louis Board of Aldermen recognized the Urban League of Metropolitan St. Louis. Inc.'s Century of Service to the St. Louis community by dedicating Grandel Square as the new Urban League Square.  
"The work of the Urban League does not go unnoticed. Without their vital programs and services to our community, our City would suffer. Thank you to the Urban League for their 100 years of service. I am looking forward to 100 more years," said Board of Aldermen President Lewis Reed. 
In 1918, the Urban League of Metropolitan St. Louis was formed as a result of the East St. Louis race riots, during a time of domestic and foreign conflict. The Urban League was established with the purpose of eliminating racial tensions, stabilizing communities and improving conditions for African Americans in St. Louis.

The mission of the Urban League of Metropolitan St. Louis is to empower African Americans and others throughout the region in securing economic self-reliance, social equality and civil rights.
Since then, the Urban League has grown to become the number one ranked affiliate of the National Urban League with 13 locations, 225 employees and a $21 million budget. The Urban League serves more than 100,000 people each year with programs offering community empowerment, economic opportunity, educational excellence, civil rights and advocacy.

For more than a century, the Urban League of Metropolitan St. Louis has been a strong partner and an anchor in the St. Louis community. Because of their devotion to the community, the Board of Aldermen is proudly dedicates Grandel Square, at the corner of Grand Ave. and Grandel Square near Grandel Theater, as the honorary Urban League Square.

To learn more about the Urban League, visit here. 
Contact Information:


Mary Goodman
Legislative Director to Board of Aldermen President Lewis E. Reed
Office Phone: (314) 622-4114

Department:


Board of Aldermen