This article is 4 years old. It was published on November 8, 2018.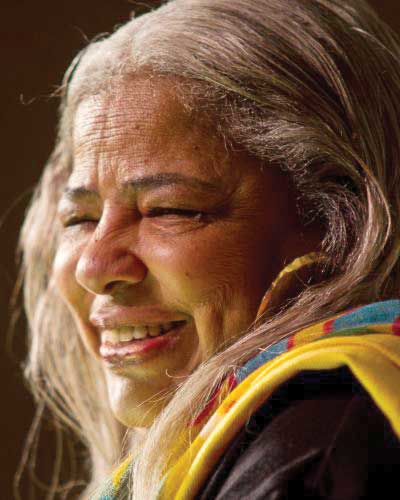 ST. LOUIS, MO - After more than 50 years of writing, performance, and service, Shirley Bradley Price LeFlore will serve as the next Poet Laureate for the City of St. Louis.
She is a proud product of the St. Louis Public Schools, and a graduate of Charles H. Sumner High School.  She attended Lincoln University in Jefferson City, and later graduated from Webster College (University); receiving her Master's from the prestigious Washington University.

LeFlore has been applauded for her groundbreaking style as an innovative poet.  She is an original member of the renowned Black Artists Group, co-founded by her late husband, noted jazz musician, Floyd LeFlore. In 1981, she gave platform to a new era of artists when she founded the Creative Arts and Expressions Lab in St. Louis, an intergenerational, local arts consortium and incubator for poetry, dance, music, and visual arts. 
Throughout her illustrious career, spanning five decades, she's performed locally, nationally, and internationally, including a historic performance at Carnegie Hall with Don Byron and fellow St. Louis native and woodwind virtuoso, J.D. Parran; and touring and performing across Europe with the late, Grammy nominated soul and gospel artist, Fontella Bass.  
LeFlore has collaborated with numerous dancers, visual artists, and worked alongside musical giants of jazz, blues, gospel, and the classical spectrum that include: the New York City based group, Spirit Stage; saxophonist, Oliver Lake; and collaborated on the late Hamiet Bluiet's BBQ Band recordings; pianist, Petah Williams; bassist, Darrell Mixon; and trumpeter, David Jackson, to name a few.

LeFlore has been a guest artist or artist in residence in the St. Louis City and County Public School Districts.  She has also been an adjunct professor at various colleges and universities around the country that include:  Lindenwood University, Webster University, Harris-Stowe State University, and Montclair State University (Montclair, New Jersey).  
LeFlore's writings have appeared in many anthologies and magazines, including: Spirit & Flame, Anthology of Contemporary African American Poetry (1997); ALOUD:  Voices From The Nuyorican Poets Café (1995); Black American Literature Forum:  Henry dumas, Vol 22, No. 2 (1988); Turn In The River:  Celebration Issue for Gwendolyn Brooks (1988); and SHEBA REVIEW: Anthology of Missouri Women Writers (1987). LeFlore has also written for and sat on the editorial board of RIVER STYX:  Literary & Arts Magazine (1975-1988).  
LeFlore was also producer of phaLiterature, a multicultural arts literary series for the IAAS in New York City, where she presented the works of literary poetry legends Gwendolyn Brooks and her mentor, Margaret Walker.  In 2015, she was a consultant on, and appeared in the indie film, Word Warriors III; and in 2009 her works were featured prominently in the critically acclaimed novel, Wildflowers, written by her daughter, TV Producer & Bestselling Author, Lyah Beth LeFlore-Ituen. 
LeFlore has used her voice as a prolific poet to move the needle in politics and education.  She was a driving progressive voice for St. Louisans, representing the city during pivotal, historic moments like the 1968 Poor People's Campaign and the March on Washington. Over the years her home has often been an artists' gathering space for poetry salons, jam sessions, and down home fellowship between artists young and old; guests have included literary icons like Amiri Baraka, Sonia Sanchez, Dr. Michael Castro, Dr. Eugene Redmond, Margaret Walker, Ntozake Shange, and James Baldwin. 
Her full-length poetry anthology Brassbones and Rainbows: The Collected Works of Shirley Bradley LeFlore; and the prolific ode to the strength of women, Rivers Of Women, were simultaneously published in 2013 (2Leaf Press, NYC). The latter was adapted to the synonymous stage-play and directed by her daughter, LeFlore-Ituen in 2011 and 2013, with sold out limited runs at the Missouri History Museum.
As LeFlore approaches her 80th birthday, she is thrilled by the news of her honorable, and long sought after, nomination and selection for the position of Poet Laureate. "I don't want to stop creating before I leave here," says LeFlore. "I see myself making a stronger impact on other people's lives.  My hope, I'll say, for poetry in this area—as well as other musicians and other artists—is that it will continue to evolve and spread, because there is a rich history of art in this town."
LeFlore will be awarded with the honor, and officially sworn in on Friday, November 9, 2018, by President Of The St. Louis Board Of Aldermen, Lewis Reed, in the Rotunda at City Hall in St. Louis, Missouri.