Tom Oldenburg
Ward 16 Alderman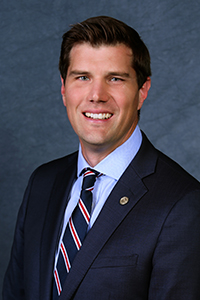 Tom Oldenburg is Alderman for Ward 16 in the City of St. Louis, which includes St. Louis Hills, as well as portions of the Lindenwood Park, Parkway Gardens, Princeton Heights, Southampton and Villanova neighborhoods.
For the latest news and events from Ward 16  – or to sign up for Tom's email newsletter – please visit the official Ward 16 website. It contains weekly updates, a contact form, and links to a variety of helpful resources. You also can follow Tom on Facebook and Twitter by searching for @OldenburgSTL.
About Tom
In addition to serving as Alderman, Tom is Vice President of the St. Louis Hills Neighborhood Association and a member of the Ward 16 Democratic Organization. He also is a parishioner and Holy Name Society member at St. Gabriel the Archangel Catholic Church. Past neighborhood involvement includes serving as chairman of the St. Louis Hills Block Captain Program.
Outside of Ward 16, Tom is a vice president at the community development division of a national bank and has 14 years of professional experience in public finance and economic development. He earned a Master's Degree in Urban Planning and Real Estate Development from Saint Louis University in 2005.
Tom is a graduate of the Leadership St. Louis Program and is a member of the Urban Land Institute. He previously served on the board of the International Institute of St. Louis.
At home, Tom is a devoted husband and father of three young children. He also enjoys running, bicycling and basketball in his spare time.
Contact Information
Address:
City Hall, Room 230
1200 Market Street
St. Louis, Missouri 63103