This article is 6 years old. It was published on May 27, 2016.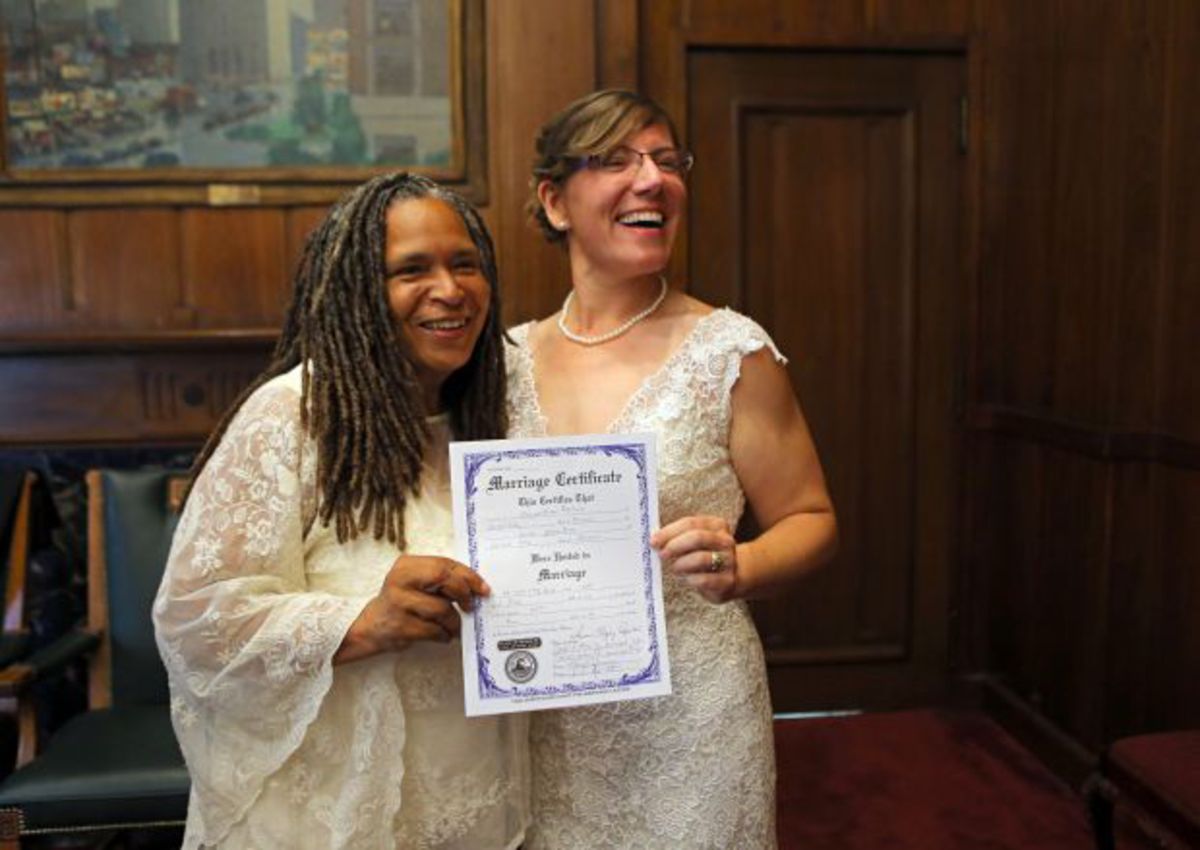 In recent years, gay, lesbian, bisexual, and transgender (GLBT) individuals did not have a specific month during which to celebrate and commemorate Pride Days in the United States. On June 11, 1999 President Clinton issued a proclamation designating June as Gay and Lesbian Pride Month. In the spirit of honoring equality and freedom, the president said, "I encourage all Americans to observe this month with appropriate programs, ceremonies, and activities that celebrate our diversity, and to remember throughout the year the gay and lesbian Americans whose many and varied contributions have enriched our national life."
The most significant June event in GLBT history was the Stonewall Inn Rebellion, a three-day protest in 1969 in New York City's Greenwich Village during which patrons protested against unfair police discrimination and harassment. It marked the first time the gay community joined together to fight for its civil rights, earning national attention and gaining a foothold in the struggle for equality. The month of June is dedicated to appreciating the contributions and significance of the GLBT community, and applauding gay, lesbian, bisexual, transsexual, and transgender pride.
There have been several significant civil rights events in recent years on the national and local level that have supported LGBTQI communities.
Nationally, the U.S. Supreme Court in the Obergefell, Et. Al v Hodges case decided on June 26, 2015, (http://www.supremecourt.gov/opinions/14pdf/14-556_3204.pdf) found the Fourteenth Amendment requires a State to license a marriage between two people of the same sex and to recognize a marriage between two people of the same sex when their marriage was lawfully licensed and performed out-of-State.
The Obergefell Et. Al v Hodges ruling comes as a long-awaited bookend to the Supreme Court's 2013 ruling that struck down the federal Defense of Marriage Act (or DOMA) requiring the U.S. government to provide the same benefits to both gay and heterosexual persons in the military.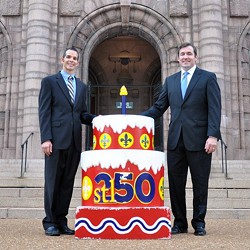 David Gray and Tod Martin.
Locally, in June of 2014, four couples were married at a ceremony in St. Louis Mayor Slay's office. This act, and them suing the State of Missouri, set the stage for a Missouri Supreme Court ruling that allowed gays to legally marry in the City of St. Louis. http://www.stltoday.com/news/local/govt-and-politics/judge-rules-that-gay-marriage-ban-in-missouri-is-unconstitutional/article_f9e3bd74-d9bf-5337-ba22-88cd5614e59d.html
More recently, communities and school districts throughout the country have been challenged to address the civil rights of Transgender individuals. President Obama's administration announced new guidance in May that allows transgender students to use the bathrooms in U.S. public schools associated with their gender identity.
The Obama Administration sent a letter through the Departments of Education and Justice, to schools nationwide that mandates the institutions create bathroom policies that support transgender students. The guidelines are meant to ensure that "transgender students enjoy a supportive and nondiscriminatory school environment," the Obama administration said.
Even with all the activity, we have the following:
14% of all hate crimes reported in the United States are committed against the LGBT population demographic.
21%: That's the percentage of LGBT employees who report having been discriminated against in hiring, promotions and pay.
Termination of an employee based on sexual orientation remains legal in 31 American states.
Termination of an employee based on gender identity remains legal in 39 American states.
Based on the numbers, we still have a long way to go before the civil rights of those who are LGBTQI are protected.
News and Views
The HISTORY Channel premieres a remake of "ROOTS" on Memorial Day, May 30th. It airs over four consecutive nights at 9:00 p.m. CST.  The original series first aired January 23, 1977.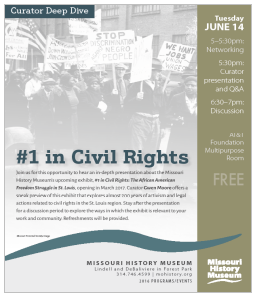 Join The Missouri History Museum June 14, 2016 @ 5:30 p.m. for an opportunity to hear an in-depth presentation about their upcoming exhibit, #1 in Civil Rights: The African American Freedom Struggle in St. Louis, opening in March 2017. Curator Gwen Moore offers a sneak preview of this exhibit that explores almost 200 years of activism and legal actions related to civil rights in the St. Louis region. For information, please email Melanie Adams at madams@mohistory.org. 
Upcoming City of St. Louis Circuit Attorney Debate
Debate is June 18, 2016 at 3 p.m. in Busch Center
https://www.facebook.com/events/223094821404622/ 
St. Louis Pridefest
PrideFest will be Friday, June 24th –Sunday, June 26th in Downtown St. Louis. For more information: http://pridestl.org/festival 
HUD Addressing LGBTQ Housing Discrimination
http://portal.hud.gov/hudportal/HUD?src=/program_offices/fair_housing_equal_opp/LGBT_Housing_Discrimination
EEOC Enforcement Protections for LGBT Workers
https://www.eeoc.gov/eeoc/newsroom/wysk/enforcement_protections_lgbt_workers.cfm
City of St. Louis Enforcement Protections for people who are LGBTQI
https://www.stlouis-mo.gov/government/city-laws/ordinances/ordinance.cfm?ord=68715
Forward through Ferguson
http://forwardthroughferguson.org/
For the Sake of All
https://forthesakeofall.org/publications/report/
Organization of the Month
Bilingual International Assistant Services
Providing Interpretation and Social Services in the St. Louis area for more than 14 years.

Each month CREA seeks to honor an organization or agency that is doing great works in the community concerning civil rights. This month, we honor Bilingual International Assistant Services, or B.I.A.S. 
The mission of B.I.A.S. is to ensure equal access to healthcare, mental health, and social services for all, regardless of national origin or language ability, through the advocacy, education, and the direct multilingual services they provide.
Bilingual International Assistant Services is a not-for-profit 501 (C) 3 organization established in May, 2002. Bilingual International was founded as a response to the unmet needs of the many seniors who had limited ability in the English language, were unable to navigate the intricate system of care, and often voiced fear over their future and livelihood.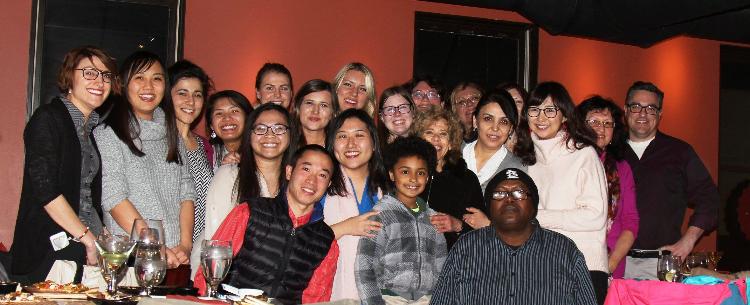 CREA has worked with Executive Director Julia Ostropolsky and her team to inform immigrants and refugees, with limited English, of their civil rights.  This partnership has resulted in a number of claims of discrimination based on national origin or religion. We are thankful for Ms. Ostropolsky and her team for their efforts and support. Visit B.I.A.S. at http://www.bilingualstl.org 
About CREA
The City of St. Louis Civil Rights Enforcement Agency is governed by Ordinance 67119 (as amended), which states, in part, intended to eliminate, reduce and remedy discrimination in housing, employment, education services, public accommodations and real property transactions and uses, to provide equal opportunity enforcement and to bring the laws of the City of St. Louis into substantial compliance with the Federal Fair Housing Act. 
To submit a claim of possible discrimination or to ask for presenters, please call (314) 622-3301 or email.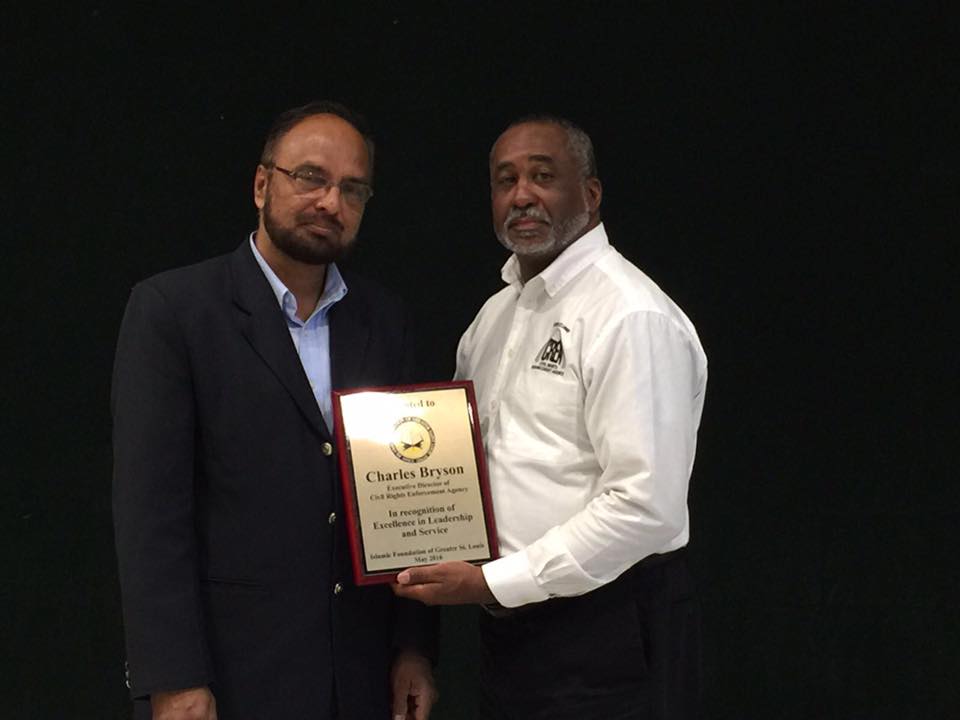 Executive Director Charles Bryson being honored by Dr Helal Ekramuddin, Chairman of the Islamic Foundation of Greater St. Louis
Next Commission Meetings
July 11, 2016
September 12, 2016 (CREA yearly retreat) 
November 14, 2016
All Commission meetings are open to the public.
Social Media
Follow CREA on: 
Department:


Civil Rights Enforcement Agency


Topic:


Equality