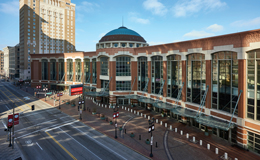 (ST. LOUIS – August 30, 2017) Comptroller Darlene Green announced today that the issue of $25.6 million in junior lien leasehold revenue bonds produced more than $2.1 million in present value savings for the City of St. Louis. The new bonds, series 2017, take advantage of current favorable market conditions to refund prior lease debt, issued in 2009. Savings from the refunding will be used to buy requested equipment for the convention center without increasing debt.
Prior to the city selling the bonds, on August 21 S&P Global reaffirmed the 'A+' credit rating for the City of St. Louis on general obligation bonds and its 'A' rating on appropriation debt with a stable outlook for all ratings. S&P viewed the city's fiscal management, budget performance and strong liquidity as positive factors for reaffirming the A+ credit rating for the City of St. Louis.
"S&P Global's reaffirmed rating and the successful outcome of this refunding is a testament to the financial management strategy we have taken to increase stability and grow our reserves," said Comptroller Green.
Risks to Credit Rating
The report lists several factors weighing against the city that could lead to a ratings downgrade in the future, however: a weak economy, weak budgetary flexibility and weak debt and contingent liabilities.
"The City of St. Louis faces a credit crisis," said Comptroller Green. "Both S&P and Moody's have warned that increasing the city's debt service, such as funding the renovation of Scottrade Center, would harm the city's credit. I again call on city leaders and development teams to not draft economic incentive packages that rely on the city's credit or general fund."
The city remains in the 'A' category for overall ratings and the majority of outstanding bonds with all three credit rating agencies Moody's, S&P Global, and Fitch.
---
Comptroller Darlene Green is the chief fiscal officer of the City of St. Louis and is charged with safeguarding the city's credit rating and with protecting taxpayer dollars. Visit www.stlouis-mo.gov/comptroller to learn more about the Office of the Comptroller.
Contact Information:


Tyson Pruitt
Public Information Officer to the Comptroller
Office Phone: (314) 613-7360

Department:


Office of the Comptroller