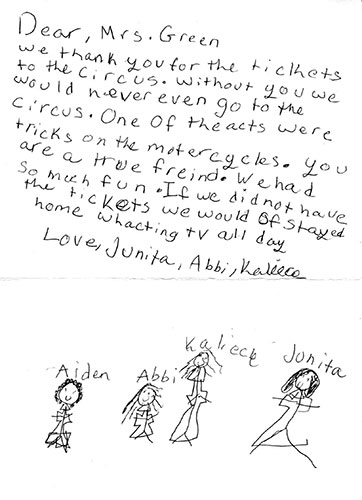 To help young students start the school year off right, Comptroller Darlene Green made tickets available to St. Louis City employees to the UniverSoul Circus, held September 3-4, for those children who began the 2016-2017 school year with perfect attendance.
Comptroller Darlene Green has always been an advocate for youth and education.
"Educating our children is one of the strongest ways to keep our city and region moving forward," said Comptroller Green. "Providing a reward for starting the year right was just one way to remind and motivate our children that their education is a top priority."
On September 20, the Comptroller received a thank you note from some of the children who were rewarded with tickets. Their note follows.
"I am honored that these four young people shared their experience with me," said Comptroller Green. "It's a privilege to share their joy, and I wish them -- and all of the city's children -- a great school year filled with a thirst for learning and education.
Department:


Office of the Comptroller