Darlene Green
Comptroller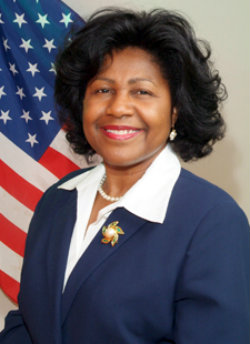 The Honorable Darlene Green, Comptroller of the City of St. Louis, serves as the city's Chief Fiscal Officer. She directs all the fiscal affairs of the city for a combined annual budget of $1 billion. As Chief Fiscal Officer, she is a member of the Executive Branch of city government, the Board of Estimate and Apportionment. Ms. Green is a member of many citywide boards and commissions, including the Airport Commission, and is a trustee for the city's Retirement Systems.
Comptroller Green maintains a platform of honesty, fiscal integrity, and a focus on protecting taxpayer dollars. Through her foresight and leadership, the City of St. Louis was not exposed to the variable rate debt crisis of 2006-08, which harmed the credit rating of many other municipal governments.
She holds a Bachelor of Science degree in Business Administration from Washington University in St. Louis and is a member of the National Association of Black Accountants (NABA); Zeta Phi Beta Sorority, Inc.; Government Finance Officers Association (GFOA); and the National Women's Political Caucus of Metro St. Louis.
Comptroller Green has received many honors, including being named a "Trailblazing Woman in Public Finance" by Northeast Women in Public Finance; one of the "52 Most Powerful People in St. Louis" by St. Louis Magazine; and receiving the National Organization of Black Elected Legislative Women's "Shining Star" award.
Contact Information