Darlene Green
Comptroller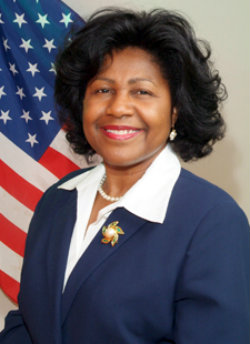 The Honorable Darlene Green, Comptroller of the City of St. Louis, serves as the city's Chief Fiscal Officer. She directs all the fiscal affairs of the city for a combined annual budget of more than $1 billion. As Chief Fiscal Officer, she is a member of the executive branch of city government, the Board of Estimate and Apportionment. Ms. Green is a member of many citywide boards and commissions, including the Airport Commission, and is a trustee for the city's retirement systems.
As an elected office holder, Ms. Green runs on a platform of honesty and integrity and has a solid record of positive fiscal performance. She is the first African American woman ever elected to the position and makes use of her talent, skills and experience to oversee the financing of some of the largest capital improvement projects in the region. This includes the St. Louis Lambert International Airport expansion and neighborhood redevelopment. During her tenure in city government, first as Budget Director and now as Comptroller, St. Louis recorded nine consecutive years of multi-million dollar budget surpluses and seven credit rating upgrades. In May 2008, the city was upgraded to an A+ credit rating for the first time in 35 years. And in a recent state audit, the auditor commented that "the Comptroller's Office is very well run."
Darlene Green is a native St. Louisan. She graduated from Vashon High School and earned a Bachelor of Science degree in Business Administration from Washington University. She has over 30 years of professional experience in both the public and private finance sectors.
Ms. Green actively works in her community with both charitable and professional organizations. She is a member of the National Association of Black Accountants (NABA); Zeta Phi Beta Sorority, Inc.; Government Finance Officers Association (GFOA); and Friendly Temple M.B. Church. She also is a member of the National Women's Political Caucus of Metro St. Louis.
Ms. Green continues to receive many honors and awards including one of St. Louis Magazine's "52 Most Powerful People in St. Louis" for 2008; the St. Louis Metro Sentinel Journal 2007 "Political Leader of the Year" award; the "Distinguished Service Award" from the Dr. Martin Luther King, Jr. State Celebration Commission of Missouri; the "National Achievement Award in Government" by the National Association of Black Accountants, Inc.; the Gateway Classic Sports Foundation "Lifetime Achievement" award; the National Organization of Black Elected Legislative Women's "Shining Star" award; a Political Leadership Award from the Young Democrats of the City of St. Louis; an Achievement Award from Sister to Sister Expo; the Mound City Bar Association's "Distinguished Community Service" award; and the 2003 St. Louis District Christian Methodist Episcopal Church Ministerial Alliance "Community Service" award.

Contact Information