Saint Louis Public Schools' Pandemic Meal Plan Handout (Finalized Locations)
Flyer listing sites where City of St. Louis Schools will provide free meals during the pandemic outbreak for children ages 18 and younger. Children can visit sites for meals and snacks.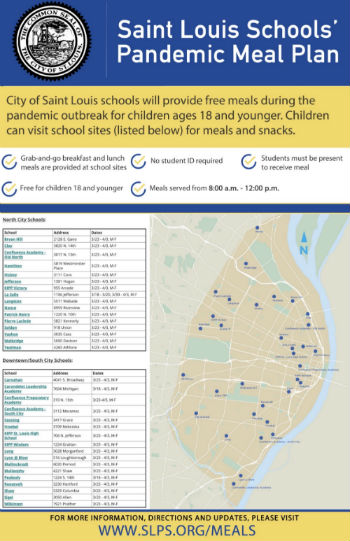 Publication Date: 03/17/2020
Document Type: Informational Pages
Sponsor: Department of Health,Office of the Mayor,St. Louis Public Schools
Summary
Downloadable flyer available below.
Additional details: https://www.slps.org/meals
Download
Sites - SLPS Pandemic Meal Plan Flyer (10.44 MB)
Need Help Viewing?
You need a program that can open Adobe PDF files. A free option: