Infant deaths are the most sensitive measure of a community's overall health, social and economic well-being.
Trends indicate that infant mortality rates in the region have declined (2000-2009), and although the rate for St. Louis City is higher than the state and nation, measurable progress is being made. Between 2000 and 2009, the rate of infant deaths (within the first year of birth) decreased by 14% among Blacks in the City (compared to 3% decrease among Whites). During that same time period, the number of teen pregnancies (among teens 10-17 years of age) decreased 26% among Blacks in the City (compared to a 54% decrease among Whites). The greatest attribution to the successes: increased access to prenatal care.
In 2008, the Department of Health along with the late Alderman Gregory Carter and other community partners accepted the challenge of ensuring a positive future for St. Louis babies by expanding the Prenatal Infant Wellness Collaborative (PIWC) to address infant mortality. From that collaborative, the
TRIUMPH
initiative was born.
TRIUMPH is a free program of PIWC, bringing together organizations and individuals in our community to help support women and men with education and resources. To address many of the deep-rooted stigmas surrounding unplanned pregnancy and healthcare, TRIUMPH utilizes a grassroots approach to encourage current members of the community to reach out to pregnant women at risk in a more meaningful way and help inspire long-term change. "Community Champions" help to identify pregnant women and assist in navigating these community barriers.
The results of this nurturing are now being seen in an overall drop of infant deaths by 7%. Innovative solutions and community involvement are proving to be the formula for healthier St. Louis babies. 
TRIUMPH currently serves the 27th Ward neighborhoods of Baden, North Point, Walnut Park East and Walnut Park West, however, future successes will see TRIUMPH expand into other communities.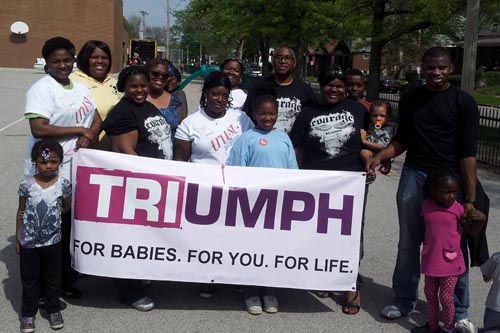 There are many supporters meeting the challenge and leading our community in a more positive direction. Currently, co-chairing the Prenatal and Infant Wellness Collaborative is Kendra Copanas, Executive Director for the Maternal Child and Family Health Coalition and William Dotson, Chief Bureau of Women Children & Adolescent Health for the City of St. Louis City Department of Health. Members of collaborative also include Alderman Chris Carter, the Missouri Department of Health and Senior Services' Office of Minority Health, St. Louis County Department of Health, Myrtle Hilliard Davis Comprehensive Health Center, Nurses for Newborns Foundation, Medicaid managed care health plans, and groups from the business, academic and faith-based communities.
The PIWC is open to anyone interested in working together to reduce infant deaths in the St. Louis region. Monthly meetings are held on the first Monday from 10:30 am – 12:00 pm at the Walnut Park Library, 5760 West Florissant, St. Louis, MO 63120. Contact Ken Sowell, TRIUMPH Program Manager, at 314.359.1430 or ksowell@stl-mcfhc.org for more information.  
Department:


Department of Health


Topic:


Health