This article is 5 years old. It was published on January 3, 2017.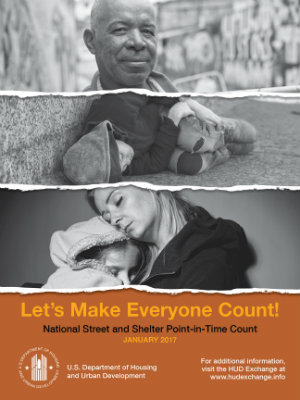 300 Volunteers are needed for 2017 Point in Time Homeless Count. Register to get trained and volunteer.
The St. Louis City and County Continuums of Care are preparing for the 2017 Point In Time (PIT) Count. Approximately 300 volunteers are needed to survey persons experiencing homelessness either on the streets or in sheltered facilities.
What
The PIT Count is a federally mandated count and survey to determine the prevalence and characteristics of persons experiencing homelessness in the City and County of St. Louis. PIT helps us to better understand who is facing homelessness on a given night so that we can advocate for additional resources to provide services for the homeless population with the goal of ultimately ending homelessness in our community.
When
Point In Time Count is Thursday, January 26th from 5:00 a.m. to 9:00 a.m.

Volunteers need to attend one of two volunteer training sessions:

Tuesday, January 17th from 6:30 p.m. to 8:30 p.m., or 
Thursday, January 19th from 6:30 p.m. to 8:30 p.m.
Register now
for one of the required volunteer training sessions

Training for volunteers for both the City and County PIT Counts will take place at:
Places for People Clubhouse 
4120 Lindell Blvd.
St. Louis, MO 63108.
Where
Volunteers will have the option of assisting in either St. Louis City or County on the day of the PIT Count. 
Volunteers assisting in St. Louis City will meet at the Places for People Clubhouse located at 4120 Lindell Blvd., St. Louis, MO 63108 on the morning of the count. 
Volunteers assisting with the PIT in St. Louis County will assemble at several designated locations due to the multiple municipalities. These locations will be announced at both PIT trainings.
Who
Community members, homeless and human service providers, and law enforcement will participate as surveyors and team leaders. Representatives from the St. Louis City and County Continuums of Care, the U.S. Department of Veterans Affairs, the Homeless Services Division of the City of St. Louis, and St. Louis County Homeless Programs will be present.
Why
The PIT Count helps our community 

To more fully understand the number and characteristics of people experiencing homelessness in our region.
To help connect the most vulnerable people to appropriate resources and secure housing.
To better allocate funding for services and measure outcomes related to homelessness.
To meet our reporting obligations to the U.S. Department of Housing and Urban Development (HUD). Data from the PIT helps drive millions of dollars in federal funding to local services providers.
To generate detailed reports that can be shared with the public to ensure that the community at-large has an accurate understanding of homelessness in our region.
Contact
For more information, contact Irene Agustin, Chief Program Manager, City of St. Louis-Homeless Services Division,
agustini@stlouis-mo.gov
, (314) 657-1702.
# # #