This article is 8 years old. It was published on December 18, 2014.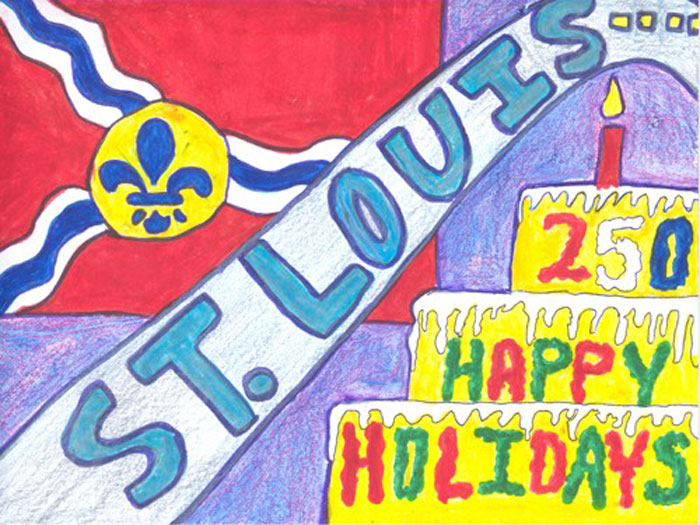 The winner and finalists of Mayor Francis Slay's annual Holiday Card Design Contest were honored today at a reception in City Hall in the Mayor's Office.
Fourth-grade student Olivia Matthews from Kennard Classical Junior Academy
submitted the winning design, which will be used as Mayor and Mrs. Slay's 2014 holiday e-cards.
"I'd like to thank all the students for submitting an entry to my Annual Holiday Card Design Contest," Mayor Slay said. "One of my favorite holiday traditions is going through the design entries, and every year, it's very difficult to narrow down the entries to the top 10. I congratulate Olivia for winning this year's contest. Mrs. Slay and I are proud to use her design on our 2014 holiday e-card."
Mayor Slay presented each student will a certificate of achievement, and Bissinger's Handcrafted Chocolate provided a complimentary gift for each of the finalists. Children 12 and under who live or attend school in the City of St. Louis were invited to submit a design for consideration in the 14th annual contest, which received 227 entries. The winners are as follow:
Grand Prize Winner:
Miss Olivia Matthews, 4th grader at Kennard CJA

1st Runner-Up:
Mr. Gabriel Edwards, 3rd grader at Woerner Elementary

2nd Runner-Up:
Mr. Benjamin Susic, 4th grader at Buder Elementary School

Honorable Mentions:

Miss Isabela Von Rohr, 4th grader at Kennard CJA
Miss Layla Wiley, 2nd grader at Premier Charter School
Miss Teyonna Coleman, 3rd grader at Peabody Elementary School
Mr. Max Manalang, 7th grader at St. Stephen Protomartyr School
Ms. Akya Grant, 3rd grader at North Side Community School
Mr. Loris Berisha, 3rd grader at Woerner Elementary School
Mr. Zach Ortwerth, 4th grader at St. Gabriel the Archangel School

A poster with top 10 card designs is on display at City Hall.
Department:


Office of the Mayor