This article is 9 years old. It was published on June 5, 2013.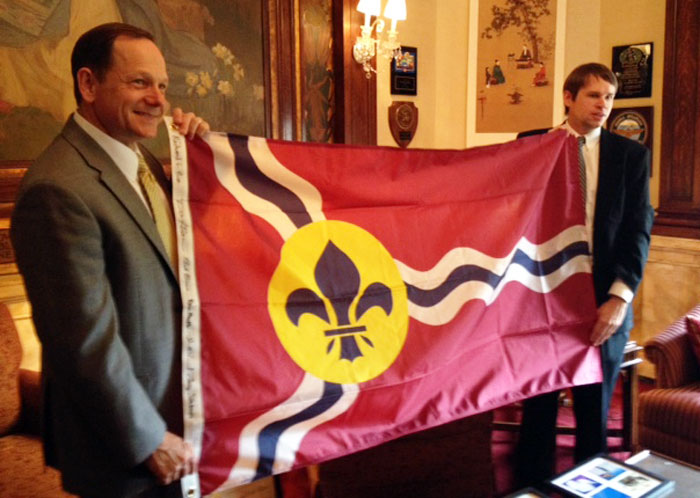 Richard Bose, a member of the high-energy astrophysics team at Wash. U. that built a balloon-borne cosmic ray detector called Super-TIGER, presented Mayor Slay and the citizens of St. Louis with a St. Louis flag that made the journey to Antarctica and back.
In return, Mayor Slay presented Bose with a proclamation and declared June 5th Super-TIGER Day in St. Louis!
"I thought it'd be great to give the flag to the city to fly and/or put on display to highlight our project's success and the contributions by St Louisans to science and cosmic ray research." said Bose. 
Cosmic rays were discovered in 1912 by Victor Hess, when he found that an electroscope discharged more rapidly as he ascended in a balloon. He attributed this to a source of radiation entering the atmosphere from above, and in 1936 was awarded the Nobel Prize for his discovery.
One hundred years later, collaboration lead by Washington University and funded by NASA, launched a cosmic ray detector called Super-TIGER (Tran-Iron Galactic Element Recorder) over Antarctica on December 9th, 2012. The flight lasted until February 1, 2013 for a total of 55 days. The mission's goal was to learn more about the origin and history of cosmic rays. Cosmic rays are atomic nuclei that travel at almost the speed of light. All the electrons have been stripped away so they are just the nucleus. Most cosmic rays, like the universe, are the lightest elements, hydrogen and helium. Super-TIGER was designed to detect the very rare heavy elements, those heavier than iron.
The large NASA science balloon broke two flight duration records while flying over Antarctica carrying an instrument that detected 50 million cosmic rays. The balloon gathered so much data it will take scientists about two years to analyze it fully. 
Electrical Engineer Richard Bose brought a St Louis City flag with him to the Ice. It hung in the payload building and on a bright, windy day, it flew outside with Mt. Erebus, a volcano on Ross Island, in the background. The WUSTL ice team members signed the flag. They were Bob Binns, Richard Bose, Post-Doc John E Ward, Electrical Technician Garry Simbuger, Mechanical Technician Dana Braun, and Graduate Student Ryan Murphy. Additional WUSTL team members included Professor Martin Israel, Electrical Engineer Paul Dowkontt, Software Engineer Martin Olevitch, and Electrical Engineer Phil Moore.   
Department:


Office of the Mayor


Topic:


Community

Video
Planting the St Louis Flag