This article is 5 years old. It was published on March 13, 2018.
St. Louis, MO – Mayor Lyda Krewson, Chief Resilience Officer Patrick Brown, and 100 Resilient Cities — an initiative supported by the Rockefeller Foundation —  on Tuesday released St. Louis's Preliminary Resilience Assessment.
The document summarizes community feedback on the state of resilience in St. Louis.  A city's resilience is defined as the capacity of individuals, communities and institutions within a city to persist through and recover from physical, economic and social challenges. Some of those challenges include poverty, racism, violence, divestment and aging infrastructure.
The assessment, which was created after a year-long engagement of more than 1,300 people through 20 community meetings, workshops, and public surveys, identifies areas in which the City will focus its efforts to improve economic, physical, and social resilience for all residents. The Preliminary Resilience Assessment will be used toward creating a comprehensive City Resilience Strategy to be released this summer.
Findings in the assessment reveal racial and economic disparities and curtailing violence as top concerns among stakeholders, in addition to reversing decades of population decline and the resultant shrinking tax base.
Other identified challenges focused on how the City — particularly its most vulnerable populations — can adapt to expected increases in rainfall and heat waves: projections include 40 percent more heavy rainfall over the next two decades, and a 16-fold rise in the number of 100-degree weather days by the year 2100.
"The path to a stronger St. Louis starts with an honest assessment of the challenges we face and the assets at hand for addressing them," said Mayor Lyda Krewson. "Through comprehensive resilience planning, we will build a safer, stronger St. Louis where every resident — especially those we know to be our most vulnerable —  has equitable access to great opportunities to build a bright future."
"Engaging the broader community has been critical in order to understand the current state of resilience in St. Louis and identify pathways forward," said Patrick Brown, St. Louis Chief Resilience Officer. "The relationships developed will be even more important as we move into the next phase of our work. "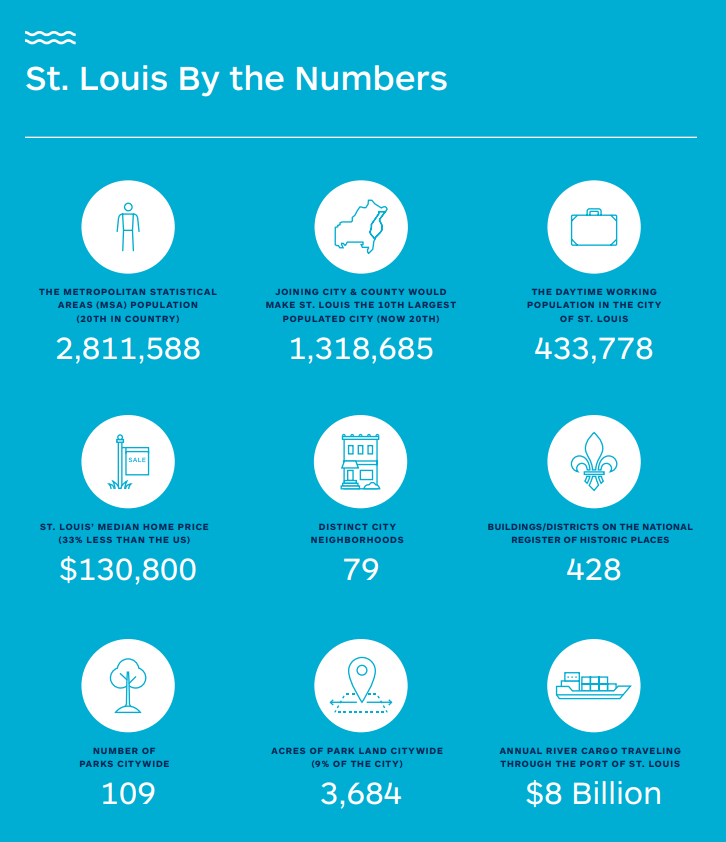 "St. Louis has a long history of successful flood prevention and response," said Otis Rolley, 100 Resilient Cities regional director, North America. "Today's release of the Preliminary Resilience Assessment demonstrates the city's resolve and leadership to move beyond infrastructure interventions and toward more complex resilience challenges."
The release of the Preliminary Resilience Assessment follows on the heels of the city's CoLab, a gathering of private and public stakeholders collaborating to foster citywide economic development. The CoLab focused on Wells-Goodfellow, a historically underserved neighborhood that faces the same challenges of many city neighborhoods struggling with economic development. Participants also explored the forthcoming investment by the National Geospatial-Intelligence Agency (NGA), a large federal employer looking to move its 3,000 employees to a new $1.7 billion campus in North St. Louis.
View and download the Preliminary Resilience Assessment document.
---
About 100 Resilient Cities – Pioneered by The Rockefeller Foundation:
100 Resilient Cities – Pioneered by The Rockefeller Foundation (100RC) helps cities around the world become more resilient to social, economic, and physical challenges that are a growing part of the 21st century. 100RC provides this assistance through: funding for a Chief Resilience Officer in each of our cities who will lead the resilience efforts; resources for drafting a Resilience Strategy; access to private sector, public sector, academic, and NGO resilience tools; and membership in a global network of peer cities to share best practices and challenges. For more information, visit: www.100ResilientCities.org.
###