This article is 8 years old. It was published on June 9, 2014.

The City of St. Louis will begin tearing down 26 vacant, condemned buildings near Ranken Technical College both to reduce crime and to prime the area for redevelopment.
The targeted area is bounded by Newstead Ave. to the west, W. Finney Ave. to the south, Whittier St. to the east, and Cozens Ave. to the North. The City chose this location because it presents a strong chance to leverage new private investment. The City's
Residential Market Analysis (MVA)
found the neighborhood is ripe for revitalization because of its proximity to strong anchors like Ranken, CORTEX and the North Sarah redevelopment.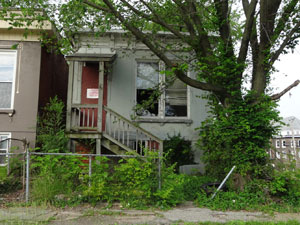 "We are using the tools and money available to us to help neighborhoods that have gone through six decades of private-sector disinvestment," said Mayor Francis Slay. "Using the MVA and our own experience, we are identifying neglected neighborhoods that have enough strength to attract private investment. History has taught us that the best and maybe the only way to revitalize those neighborhoods are public/private partnerships. Government's job is to prepare neighborhoods for development and provide incentives. But, government investment without substantial private investment and know-how is doomed to fail."
Removing a concentration of vacant and condemned buildings and providing other direct interventions, like Hot Spot Policing, will also reduce crime and boost the quality of life for current residents.
"Anything we do has to benefit the people who live here," said Mayor Slay. "Their interests are our prime interest."
Ranken has already committed nearly $10 million in redevelopment to the neighborhood, including purchasing more than 200 parcels of land and constructing 56 new homes with its carpentry students.
"Our efforts with the Ranken Community Development Corporation (RCDC) have allowed us to not only train the next generation of the workforce, but also to be a driving force in the rebuilding of our great city," said Stan Shoun, President of Ranken Technical College. "The City's targeted investment will create a win-win opportunity for students and residents."
The City will spend approximately $275,000 of its dedicated demolition budget on the project area. Of the eight contracts that have been awarded to demolish 13 of the buildings so far, 100 percent of them have gone to minority-owned firms.
Several of the contractors will demolish the buildings by hand so that St. Louis brick and other materials can be salvaged for reuse.
The City of St. Louis Land Reutilization Authority owns 17 of the buildings slated for demolition because the original owners abandoned their properties and stopped paying taxes. Nine others are privately owned. The City will pay for all of the needed demolitions, and then bill the nine private property owners for the expense.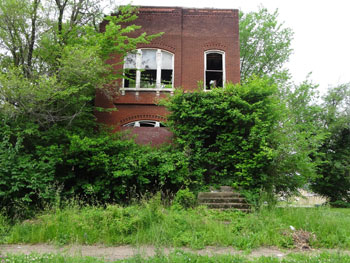 The targeted buildings went through an extensive vetting process. Each of the 26 buildings was inspected and determined to be dangerous and beyond rehabilitation. None is historic nor in a historic district. The structures present a nuisance and safety hazard to the community and were often the subjects of repeated complaints by neighbors, elected officials and police.
"I want to thank the Mayor, his staff and the police chief for everyone's hard work that brought this important and transforming project to fruition," said Missouri Senator Jamilah Nasheed. "This demolition project goes hand-in-hand with Senate Bill 731 that I passed this past session, which empowers community groups to take legal action to rid their neighborhoods of abandoned eyesore properties that can breed crime."
"This is a neighborhood where we have families with well-maintained homes and yards living next to the remnants of private disinvestment," said Mayor Slay. "It's ripe for reinvestment, and these targeted demolitions will pave the way for attracting new, positive attention to the area to help it thrive."
Department:


Office of the Mayor
Land Reutilization Authority