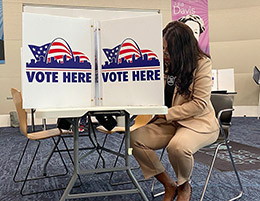 Today, Mayor Tishaura O. Jones voted early at Julia Davis Library following Missouri's new no-excuse absentee voting provision, which allows voters to vote early absentee without an excuse beginning two weeks before Election Day. 
"Your vote is your voice and the way we make change in our communities," said Mayor Tishaura O. Jones. "No-excuse absentee voting is a great opportunity to cast your ballot early, on your own schedule, ahead of Election Day on November 8. It's fast, easy, and convenient, and I encourage St. Louisans to learn more about all their options to vote."
The Board of Election Commissioners has opened four locations across St. Louis for residents to vote no-excuse absentee:
Three St. Louis Public Library branches on Monday, Thursday, and Friday: 10 a.m.–4 p.m., Tuesday and Wednesday: 12 p.m.–7:00 p.m., Saturday: 1 p.m.–4:30 p.m.

Buder Library, 4401 Hampton 
Julia Davis Library, 4415 Natural Bridge 
Schlafly Library, 225 N. Euclid Avenue

Voters can also cast a ballot early right across the street at the Board of Election Commissioners, 300 N. Tucker, Monday-Friday: 8 a.m.–5 p.m., Saturday, November 5: 9 a.m.–1 p.m.
While the Election Board and the City are working together to make voting as accessible as possible, Missouri has also implemented new rules requiring the presentation of a photo ID to vote. Accepted photo IDs to vote include a non-expired Missouri driver or nondriver license; a non-expired military ID, including a veteran's ID card; a non-expired United States passport. Make sure the name on the ID matches the name on the voting rolls. The Missouri Department of Revenue offers residents one free nondriver ID through its DMVs. Learn more about how to obtain a nondriver ID as well as documents necessary at showit2vote.com or by calling 573-526-VOTE (8683).
Mayor Jones voted following a tour of Julia Davis Library's third Creative Experience space. Each space features computer workstations equipped with digital creative software, including options for audio production, graphic design, film editing, animation, game development, and more, as well as state-of-the-art printing, recording, and digital equipment. The only requirement to utilize Creative Spaces is a library card.
Contact Information:


Nick Dunne
Public Information Officer
Office Phone: (314) 622-4072

Department:


Office of the Mayor
Board of Election Commissioners