This article is 6 years old. It was published on July 13, 2015.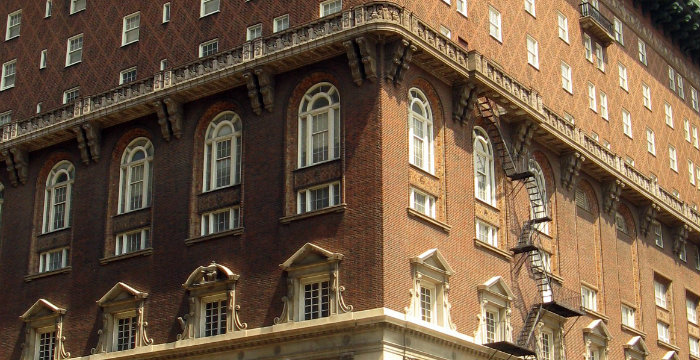 The historic Missouri Athletic Club (MAC) is beginning a $2.4 million energy-efficiency retrofit of its downtown clubhouse with the City's Set the PACE St. Louis clean-energy financing program, making it the largest PACE-financed project in the country this year. Property improvements include heating, ventilation and air conditioning (HVAC) upgrades, state-of-the-art energy management controls, and other high-efficiency measures, which are projected to generate more than $200,000 in annual energy savings.
"The City's stock of old buildings cannot keep up with demands for energy efficiency without some major retrofits, which can be expensive," said Mayor Francis Slay. "We created Set the PACE St. Louis to ease the burden and encourage savings -- both financially and environmentally -- for business owners to use."
One of the chief characteristics of Property Assessed Clean Energy (PACE) financing is the ability to finance for longer terms -- up to 20 years -- so that annual loan payments are offset by real dollar energy savings. This sustainability initiative of Mayor Slay helps property owners upgrade their buildings to reduce greenhouse gas emissions, save on utility bills, and advance the City's broader environmental, social and economic goals.  
"Greenhouse gases contribute significantly to climate change," said Catherine Werner, Director of Sustainability for the City of St. Louis.  "Buildings in the City are responsible for approximately 80 percent of citywide greenhouse gas emissions, so facilitating energy-efficiency improvements in buildings is critical to achieving our climate protection goals."
The cornerstone of the Missouri Athletic Club Downtown Clubhouse was dedicated in a ceremony in 1915 with its doors opening for business the following year. Listed on the National Register of Historic Places, the property is a rare example of a building that has never changed its primary purpose or use for 100 years.
"Our downtown clubhouse was the first building west of the Mississippi to have air conditioning, and it still has those original, custom-built air handlers," said Wally Smith, general manager of the MAC. "When we were made aware that we could pay for upgrading our systems with energy savings, it really was a 'no-brainer' for us. Set the PACE St. Louis fulfilled a need that's going to ensure the preservation of this City landmark for generations to come."
"We became a Set the PACE St. Louis 'Program Ambassador' because we see the PACE concept as a great way to deploy energy-savings performance services to the private sector," said Scott Hardwick, contracting solutions manager for Trane, which is providing project management and energy-efficient systems and services for the MAC.
"There are challenges in maintaining a building this age," said MAC President Brent Kaniecki.  "And yet, the PACE program has made it possible for our Club to lead on this issue by serving as a model for other local businesses to make energy-efficient upgrades of their own."
"There really aren't any downsides with energy performance upgrades," said Byron DeLear of Energy Equity Funding, program administrator for Set the PACE St. Louis. "We've had 12 successful projects, including an award-winning solar installation at Four Muddy Paws, where the property owner is now benefiting from the capital investment because the project is ultimately paying for itself."
Set the PACE St. Louis supports an "open-finance model," which allows local lenders, banks, and other funding sources to participate in project financing. A local funding source -- Jefferson Bank and Trust -- is providing project financing for the MAC, and as a St. Louis-based institution, has the added benefit of keeping the flow of capital within the community.
###
About the Missouri Athletic Club
Established in 1903, the Missouri Athletic Club is a private social, business, athletic, and dining club with locations in Downtown St. Louis and Town and Country in West St. Louis County. It is also a Platinum Club of America, an honor bestowed on the top 4% of private clubs in the United States.
About Energy Equity Funding LLC
Energy Equity Funding LLC designs, implements, and administers clean-energy programs, including expert consulting and providing turnkey Property Assessed Clean Energy (PACE) administration and financing services. Energy Equity Funding is the program administrator for Set the PACE St.Louis and A2E2, the Arkansas Advanced Energy Equity Program.
About PACE Financing  
Property Assessed Clean Energy is a simple and effective way to finance energy efficiency, renewable energy, and water conservation upgrades to buildings. PACE can pay for new heating and cooling systems, lighting improvements, solar panels, water pumps, insulation, and more for almost any commercial property -- new or rehabs. PACE-funded projects make buildings more valuable and sustainable. PACE is voluntary and can finance up to 100% of a project's costs. Because PACE is levied as a special tax assessment, the PACE "loan" is not considered debt but rather is treated as an "off-balance sheet" payment obligation.
Department:


Office of the Mayor