This article is 4 years old. It was published on January 11, 2018.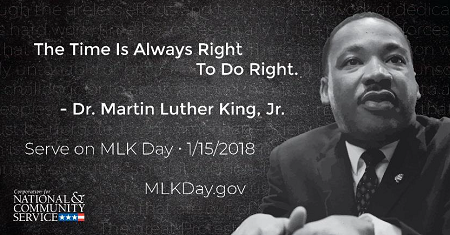 Rev. Dr. Martin Luther King, Jr. devoted his life to equality, social justice, economic advancement, and opportunity for all. He challenged us to build a more perfect union and taught us that everyone has a role to play in making America what it ought to be.
This year's annual MLK Day of Service will be observed on Monday, January 15, 2018.  The MLK Day of Service is the only federal holiday observed as a national day of service. 
The upcoming commemoration is an opportunity to re-commit ourselves as citizens by volunteering in service to one another. 
To register a project you can go to the MLKDAy.gov website.
Find out More on the MLK Day of Service.
Annual Freedom March
A civic ceremony will take place at 9:30 a.m. at the Old Courthouse downtown followed by the Annual Freedom March at 11:30 a.m.
It will end with an interfaith service at 12:30 p.m. at the Leonard Missionary Baptist Church located at 1100 North Compton.
Date: Janurary 15th, 2018
Time: 9:30am opening ceremony - March begins @ 11:30am
Location: Old Courthouse - Downtown
Organizers say St. Louis has the second largest MLK celebration in the United States.
Reclaim MLK Day March
Activist Reverend Darryl Gray, who marched with Dr. Martin Luther King Jr., is calling on St. Louis area leaders to get more involved with efforts to help make the city a better place for everyone.
The reverend is inviting the public to attend the Reclaim MLK Day March, Monday, January 15, 2018.
Participants are asked to meet at 6210 Dr. Martin Luther King Boulevard at noon and then march to the King statue in Fountain Park. 
Date: Janurary 15th, 2018
Time: 12:00pm
Location: 6210 Dr. Martin Luther King Boulevard
Reclaim MLK 2018 program and dinner
Sunday, January 14, 2018 from 4:00 p.m. to 7:00 p.m.
The Equation Church, 4032 N 22nd St, Saint Louis, MO 63107
MLK Day Freedom Celebration
Join the Saint Louis Art Museum in the Farrell Auditorium on Friday, January 19th for the Rev. Dr. Martin Luther King, Jr. Freedom Celebration, a free annual event commemorating the legacy of Dr. King through spoken-word and musical performances.
Date: Janurary 19th, 2018
Time: 7:00pm - 8:00pm
Location: Saint Louis Art Museum - Farrell Auditorium
 This year's theme is #1960Now, Fine art photographer Sheila Pree Bright will discuss her most recent work, #1960Now, a collection of photographs linking today's protest movements to those of the 1960s.
The artist will share how she captures the essence of contemporary social justice movements in her photographs while connecting her work to the photographs of Civil Rights Movement photographer Moneta Sleet Jr.

All events in the Farrell Auditorium, including free events, are ticketed. Tickets may be reserved in person at the Museum's Informations Centers, through MetroTix.com, or by calling 314.534.111.
Tickets reserved through MetroTix incur a service charge; the charge is waived for tickets reserved on site at the Museum.
More Events: