This article is 5 years old. It was published on March 21, 2018.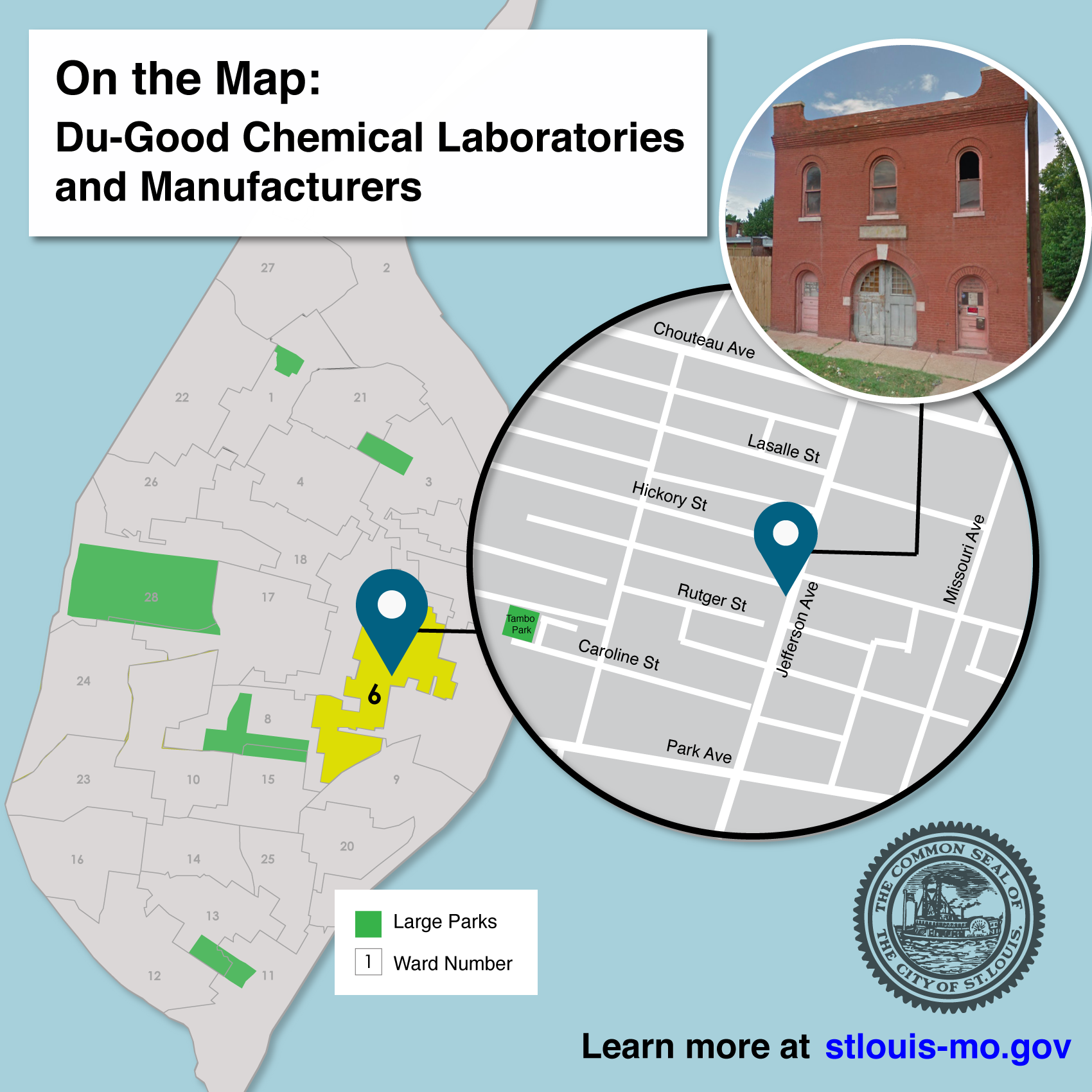 Too often the history of our city goes untold. The streets we walk down or houses we pass have a storied past that is sometimes forgotten. To commemorate Black History throughout the year, we will be sharing the stories of places in our city that in one way or another have been home to the rich history of Black St. Louisans.
The second featured place in the On the Map series is Du-Good Chemical Laboratories and Manufacturers on South Jefferson — the site of significant scientific advancement under the leadership of Lincoln Diuguid. 
Lincoln Diuguid, the founder of Du-Good Chemical Laboratories and Manufacturers, grew up an aspiring scientist in Lynchburg, VA in the early 1900s. In a story often told about his childhood, an academic advisor dismissed Diuguid's dream because of his race. Diuguid was a light-skinned black man who was "white-passing," meaning his physical appearance could be mistaken for white. He navigated this tension his entire life, balancing societal expectations to "act white" for career advancement with a desire to be proudly rooted within his racial identity.
He eventually attended Cornell University and graduated with a master's degree in organic chemistry, becoming the first black Cornell graduate with an advanced degree. While at Cornell, Diuguid researched medical treatments for malaria and developed a chemical agent that is essential to the components of plastic. Though the latter idea would earn millions for companies across the world, he did not receive any of the proceeds. Cornell University and other companies owned the copyright, sparking Diuguid's decision to start his own company so he could receive credit for his ideas and earn a profit.
Diuguid moved to St. Louis in the 1940s to start the company with his brother. Despite city laws barring black people from legally obtaining a property deed, the Diuguids raised enough money to buy an old veterinary hospital. They would later develop that property into Du-Good Chemical Laboratories.
At this site, Diuguid invented the first water-free hand sanitizer, conducted medical research, and worked to develop treatments for cancer and leukemia. Du-Good Chemical Laboratories conducted research that impacted a large number of industrial processes, ranging from oil refinement to spacecraft re-entry. The company also worked with corporations and universities across the world and with clients like the United States Army and Dow Chemical Company.
Diuguid also led his company's efforts to sell industrial household products such as cosmetics and cleaners to the black community in St. Louis. He mentored and employed local black St. Louisans at his laboratory and taught classes at Harris-Stowe University, Washington University in St. Louis, and St. Louis University. Diuguid was fully immersed within the St. Louis community and continued to inspire those around him until his death in 2015.
Du-Good Chemical Laboratories and Manufacturers closed in the early 2010s. The building is owned by a roofing company and is located on 1215 South Jefferson Avenue.
Learn more about Du-Good Chemical Laboratories and Lincoln Diuguid:
"Our Fathers: Making Black Men" by Lewis Diuguid, son of Lincoln Diuguid.
https://www.amazon.com/Our-Fathers-Making-Black-Men/dp/1627340998/ref=sr_1_1?ie=UTF8&qid=1521476803&sr=8-1&keywords=Our+Fathers%3A+Making+Black+Men
"Author finds the formula for success at Du-Good Chemical on South Jefferson," St Louis Public Radio, August 29, 2017 http://news.stlpublicradio.org/post/author-finds-formula-success-du-good-chemical-south-jefferson#stream/0
Du-Good Chemical Laboratory Building National Register of Historic Places Registration Form
https://dnr.mo.gov/shpo/nps-nr/100000911.pdf